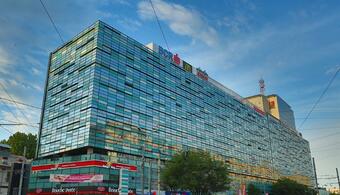 The French fund hopes to get 90 million Euros on this building, which was bought on the peak of the boom period with 120 million Euros, the largest transaction on the office buildings market in Bucharest until the beginning of this year.

In the second phase of the auction are the PPF group of the Czech billionaire Petr Kellner, Teddy Sagi, the Israeli billionaire who bought the Swan offices in Pipera and the Austrians from CA Immo, according to the market.
Kellner bought last year the Metropolis office building on Iancu de Hunedoara Boulevard, next to the Government.
The sale process is coordinated by the C & W Echinox real estate brokerage company.
America House was bought in August 2007 from Globe Trade Canter by Natixis, whose real estate division is AEW Europe, for 120 million Euros, a level untouched since then by any other project sold over the last decade. The only transaction exceeding this price was be the sale of AFI Park offices, valued at 164 million Euros. According to market data, America House would now sell for about 80-90m Euros, with 30-40m Euros less.
The French also hold in Romania the retail park Promenada in Târgu-Mureş, which is also on sale. With the sale of the two assets, AEW Europe would thus exit the Romanian market.
America House has a leasable area of 27,000 square meters of offices, so the price per square meter was 4,500 Euros. For comparison, the Hermes Business Campus in Pipera is on sale for around 2,000 Euros per square metre, while AFI Park with 70,000 square meters of GLA (leasable area) is valued at over 2,300 Euros per square metre. In 2007, America House was sold with a return on investment of 5.6%, comparable to that of Western Europe. Now the yields on the office market in Romania for Class A buildings and fully leased are 7.5-7.75%. (source: bucurestiul.ro)