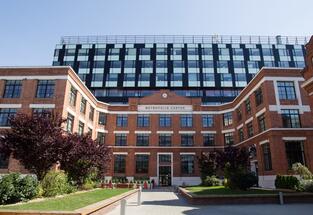 The 19,000 sqm office complex is located in the central area of Bucharest. Among its tenants there is the European Bank for Reconstruction and Development (EBRD), law firm DLA Piper, Parexel, ING and Reckitt Benckiser.
Real estate consultancy JLL assisted PPF Real Estate on the acquisition.
"Romania is gradually entering on the radar of other investors, aside from the ones that have been active in the recent years," said Silviana Badea, national director, head of capital markets department at JLL. The consultancy estimates that the total volume of investment in the local real estate sector will reach EUR 600 – 700 million this year.
Metropolis Center was opened in 2009, having an office and retail component. In May 2014, the owner of the project concluded a EUR 1.5 million investment in the conversion of the Starlight Suites hotel in Bucharest into office space.
The hotel was located on the grounds of Metropolis Center. The office complex has been developed on the site of a former Bucharest printing house at 89-97, Grigore Alexandrescu Street.
PPF Real Estate Holding has close to EUR 2 billion in assets under management. The holding includes one company that manages projects in selected European countries and a separate firm that focuses on the portfolio of real estate in Russia. (source: business-review.eu)