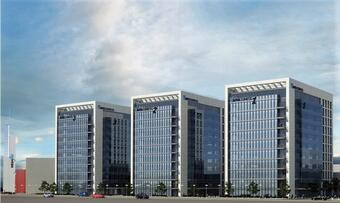 "Once this transaction is completed, it will be AFI Europe's first sale transaction in Romania. An important milestone from our point of view as an international developer having already invested more than five hundred million EURO in Romania and currently developing 3 new important projects: AFI Brasov mixed use project which includes 45,000 sqm shopping mall and 25,000 class A offices, AFI Tech Park - a 56,000 sqm office park - and AFI City residential project in Bucurestii Noi", stated David Hay CEO AFI Europe Romania.
The AFI Park office development represents, by itself, a great achievement for our company in Romania. Completing the full development cycle of 5 "Class A" office buildings in 5 years, achieving an occupancy rate of 100% with some of the most important multinational companies operating in Bucharest, and now this disposal are a solid proof of the valued package of facilities and technical specifications we offer in our office projects to both occupiers and investors. The experience we gained in developing AFI Park is of great value for our upcoming projects on the office segment", added David Hay.
Dragos Paval, CEO of Dedeman, stated: "The AFI Park project reflects our high standards, that we want to exercise in all our business, applied to the office sector. We have concluded that this acquisition is the most robust and confident step that we can take today in the field of commercial real estate, a sector that we want to invest in. Furthermore, we believe that this investment will solidify our group and our core business of DIY retail together with the trust of our existing and future business partners." Dedeman is the leader of the Romanian DIY market and is one of the largest companies in Romania operating 45 stores with estimated sales this year of EUR 1.5 BN.
AFI Park 5 office building offers 70,000 sqm GLA of office leasable area occupied by multinational corporations. AFI Park line-up of tenants includes: Microchip Technology, Electronic Arts, Endava Romania, Cameron US, SII Romania, ORTEC Central & Eastern Europe, FotoNation, Telus International, Veeam Software, SecureWorks and more. All AFI Park buildings are green buildings having LEED Gold Certification.
AFI was advised by Colliers International, law firm NNDKP and lawyer Bianca Stamatoiu, while Dedeman was advised by Popovici, Nitu, Stoica & Asociatii.
Robert Miklo of Colliers International stated: "We congratulate AFI on their first exit in Romania in a transaction that can become not only the largest pure office deal in the history of the local investment market, and one of the largest in the Central and Eastern European region, but which also successfully attracted, in Dedeman, a new player and the first domestic investor at this scale. This is a very consequential transaction for our market and will have a positive influence on the perception of Romania both in the international arena as well as in the eyes of the local investment community. We also congratulate Dedeman on their confident market entry with the acquisition of such a fine and strategically positioned property." (source: AFI Europe)