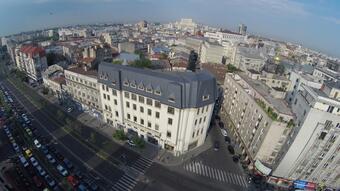 These investors include groups specialized in real estate investments such as NEPI, Global Vision, Iberia, Hercesa, S+B Gruppe, as well as companies and persons looking at this market as a placement opportunity, such as the company FF Group Romania, which is inaugurating a refurbished historical building this month.
Overall, the stock of the 2,058 historical buildings on the list of monuments in Bucharest totals nearly 926,100 sq. m, with a third being renovated or in process of renovation with commercial potential, according to ESOP Consulting estimations.
One of the most recent properties entering the market belongs to the group FF Group Romania, is situated in the area Magheru –Universitate of Bucharest, with high visibility and a total rentable area of 2,160 sq. m.
Another investor of the same calibre is the group S+B Gruppe, which has rencetly renovated a historical building on Magheru Blvd., with an investment of EUR 20 million and turned it to a mixed centre, with offices and retail, named Magheru One.
Global Vision has also invested in a business centre reconverted from a historical building, in downtown Bucharest, near Universitate, with a total rentable area of 2,285 sq. m.
NEPI's project in Piaţa Victoriei is a large scale project, scheduled for delivery in third quarter of this year with an investment of EUR 37 million. The new complex, Aviatorilor 8, will include 8,400 sq. m office spaces and is built around an old historical building
Pioneer on this market was the Romanian investor Ion Lazăr, who renovated a former factory in northern Bucharest (Fabrică de Glucoză), a historical monument which was reconverted to offices 20 year ago. The first tenant of the office spaces in Caro complex, resulted after rehabilitation, was the multinational company Unilever, which had signed a lease agreement of 15 years. The complex was expanded several times over the years.
Soravia, an Austrian investor, has inaugurated in 2008 a large complex resulted from the rehabilitation of a historical building, including at that date offices on 11,000 sq. m rentable area, retail in the ground floor and an aparthotel. During 2013-2014, the aparthotel was also reconverted to offices, due to high demand on this segment.
Spanish groups Iberia and Hercesa represented another phase in the development of this business, by acquiring historical buildings downtown Bucharest in Cişmigiu Park area, renovating them and delivering spaces for rent in 2012-2013.
Asking rents for the offices in renovated historical buildings vary between EUR 12 and EUR 18/sqm/month.
As the occupancy rate of the building is growing, the rent increases, so currently there are spaces 20-30 pct most expensive than at the date of the inauguration of the renovated building. (source: ESOP)