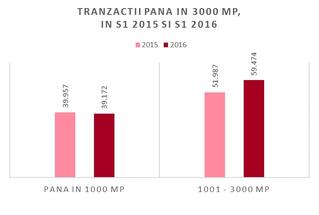 Overall, both categories registered 7 pct growth, from nearly 92,000 sq.m in H1 2015 to approx. 99,000 sq.m in H1 2016.
The two market segments have together 45 pct share in the total of the office market in Romania.
The ranges of activity with the largest number of office request (up to 3,000 sq.m) were the IT&C, the medical services and the professional and financial services.
"We are facing for some time a recovery of the companies and the resuming of their development plans beyond the area expansions too, the quality  of the space being again a criteria of space differentiation. These trends are also showing on the segment of the average companies (companies with up to 250 employees), a vital segment in the economy structure of a country", says Alexandru Petrescu, Managing Partner ESOP Consulting l CORFAC International.
Considering the chosen locations, the companies with the largest number of transactions of office spaces up to 3,000 sq. m were in Bucharest, and the top zone was represented by the centre-north, with a total rented area of 46,726 sq.m, the second place being taken by the centre-west, with 12,709 sq.m and the third place being occupied by the downtown, with 9,067 sq.m.
Considering the office type, most of the companies choosing office space up to 3,000 sq. m preferred the new business centres (nearly 80 pct.), the villas registered approx. 20 pct. share.
Considering the building' class, the new office buildings, A or B class with all facilities of a modern working area were also preferred. The A class office buildings transacted (office spaces below 3,000 sq.m) in the first half of 2016 included Europa House, America House, Green Court, Iride, S-Park, Globalworth Tower, Oregon Park. (source: Esop)