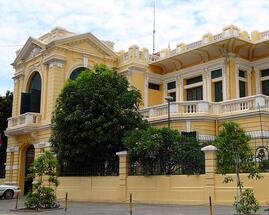 The zones chosen by the tenants were instead only premium, in downtown or in central-northern Bucharest, where the asking rents are between EUR 10 and EUR 13 per sq. m.
"The tenants were looking for well and correctly renovated villas, with IT networks and other facilities for the office spaces, in zones insuring an image boost, such as Romana, Cismigiu, Domenii and Aviatorilor. The asking rents for such properties are between EUR 10 and EUR 13 per sq. m.", has declared Alexandru Petrescu, managing partner Esop Consulting l CORFAC International.
The tenants which found office spaces in rented villas through Esop in the first quarter include Verida, NTS Leader and Joint Media Advertising.
In the first quarter of 2015, the villas with green areas around were highly appreciated, even if in those zones the land is very expensive and the yards are rare.
In 2014, in Bucharest were rented 13 villas with office destination, with 12 units less than in 2013, according to statistics registered by the most important real estate agencies forum.
The main reason of this decrease, both in number and in rented area, was the large number of quality office buildings delivered in 2014, which have attracted some of the traditional clients on the segment of villas – law firms, advertising agencies and financial or personal services.
In 2015 the rentable villas market is improving. In the first three months of 2015, the number of villa transactions registered by Esop, one of the most important players on this market segment, owning the largest data base with villas for rent and for sale, has increased three times compared to the same period of last year.
In downtown – area which includes the zones Romana, Unirii, Cismigiu and in central-northern Bucharest - Kiseleff, Domenii, Soseaua Nordului, 1 Mai, Floreasca, Baneasa there are villas for rent totalising 76,573 sq. m, more than half of the total stock.
Most of the villas are situated in the central-northern area, near the embassies, large multinational headquarters, the Government and the most expensive residential neighbourhoods.
Esop's officials estimate that those zones will remain on top of this market, the tenants 'profile being fit for this type of properties.
The investors are also aware of this aspect, preferring to buy and capitalize villas in central-northern Bucharest or in downtown, even if the rents are higher than in other areas and the prices are even 50-70 pct higher.
Esop is one of the main real estate consultants working for 12 years on the office market, being leader on the segment of office rentals by medium companies. (Source: dailybusiness.ro)