Together we stand
The global lockdown due to the pandemic has become a majorchallenge for many of us. More than ever before we realise how important human contact is, especially in the work environment.
Many companies are now bringing their employees back to the office.
This step requires particular care and caution to make sure that the return to work takes place with peace of mind and a sense of safety.
It is very important to plan and implement essential measures to protect people at work whilst allowing them to be as effective as possible in communicating and collaborating with each other.
This article has the purpose of providing some useful tips on how to face this new era and to shape the future of the workplace together. For people to be successful at work, to express their genius and to stay safe.
Diffuse Office
The pandemic confirmed that the office is no longer a single physical space, but is a set of spaces spread throughout the workplace from which we can connect to our colleagues and our work.
The idea of a "diffuse office" is not a new concept, but it has taken on strength and represents the main solution to providing employees with a safe, comfortable and convenient workplace.
In this period many of us were forced to work from home: we tested the limits and tried the undisputed advantages.
Today, any "return to the office" strategy cannot ignore that remote working is still valid, allowing as many employees as possible to continue working from home.
This also implies a commitment by the company to support the employee in ensuring an ergonomic and safe workplace at home.
#01Immediate Measures
Coming back to the office is a process, a series of steps which will lead us to a new normality, to a new concept of workplace.
After being forced to work from home, new office solutions will have to be developed around the concept of a "diffuse workplace" including office spaces, home and other remote places. It is a process which asks for actions in the short, medium and long term.
The office will always be at the centre of this transformation: as a start we will have to adopt behaviours and procedures that will make it easier to adapt to the immediate circumstances and be prepared for possible outbreaks of the epidemic.
Basic suggestions include:
· Return to the office gradually, integrating office work with remote working.
· Reduce and regulate the use of social and shared areas in the office.
· Adopt all the guidelines of your national health authorities regarding disinfecting spaces.
· Monitor your employees' health with the help of technology and good communication.
#02 Space Planning
Until a few months ago the focus in space planning was specifically about optimising the footprint and space utilisation factor, whilst increasing the amount of collaboration and meeting areas.
One of the main objectives was to get people together and to share space.
The new challenge today is how to make collaboration and exchange as effective and safe as possible whilst using the same spaces. Existing work processes and routines have to be reconsidered.
Office spaces need to be rearranged and adapted in order to achieve the required physical distance between people without compromising on productivity and efficiency at work.
These four approaches could help in redesigning the office space:
· Density
· Distance
· Workflow
· Sharing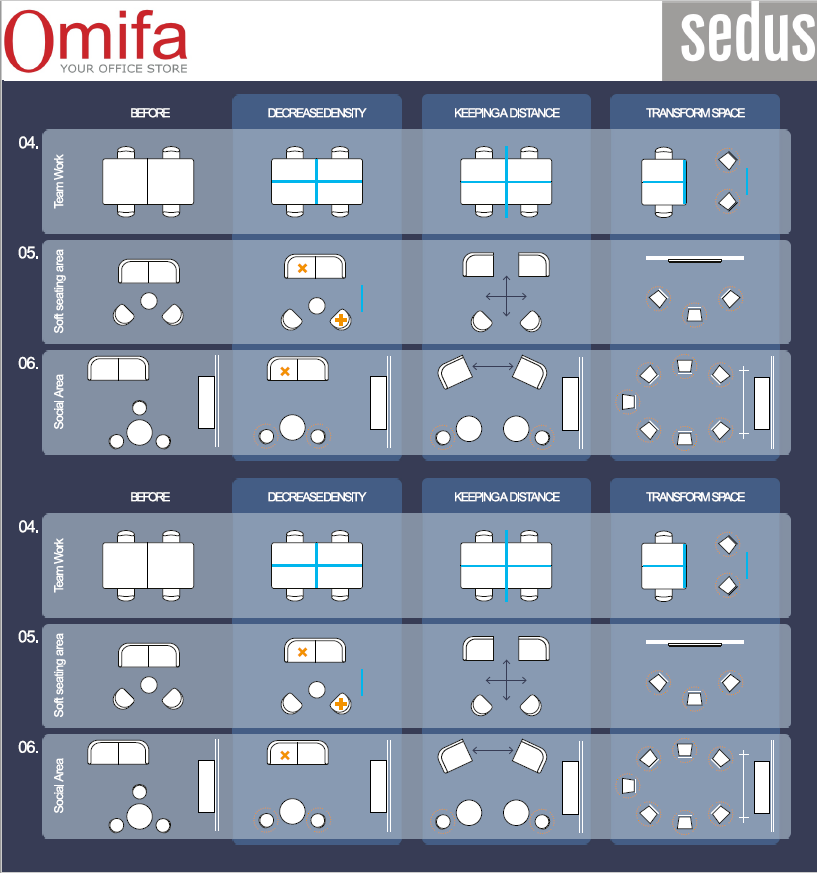 Density
According to the science, the number of people in a space is directly proportional to the probability of contracting the virus. For this reason, during the critical phase of the pandemic, access to all indoor and outdoor places with a high density of people was restricted or forbidden.Limiting the presence of people inside offices and facilitating the distancing between people is very important to drastically decrease the possibility of spreading an infection. This also gives employees the sense of feeling safe and in the best surroundings to do their job. To effectively reduce density in an office, it is necessary to consider all possible actions that are compatible with the company workflow and strategy, such as working from home, remotely or on multiple shifts.
Distance
Science requires us to 'socially distance' ourselves from others when outside or indoors to minimise the risk from the virus. In an office, the recommendation is to keep a safety distance between people bigger than the one travelled by the droplets expelled by the nose or mouth of an infected person. This is particularly important when two or more people are working together for a long period of time. In order to make social distancing even more effective, it is necessary to install separation panels and barriers, preferably made of easily washable and sanitizable material. The presence of barriers also contributes to giving employees a sense of protection and safety.
Workflow
Offices are the place where every company shapes its work processes and moulds the way employees interact during working hours. Due to the ongoing situation, by necessity, the workflow of companies is changing. New needs arise daily both from workers and the company itself.
The traditional request for flexibility and adaptability is now accompanied by the need to ensure safe spatial conditions, allowing people and the company to work at their best.
Sharing
Currently, most offices have communal areas or furnishings which can be shared and used by several people. For example, desks in flexible offices, meeting rooms, social and sofa areas.
In order to meet safety conditions, these furnishings and shared spaces must be considered as areas of possible contagion, both due to the proximity between people and because of a possible contamination through the contact surfaces. Companies must therefore reduce such areas and furnishings or severely limit their use.
Shared work stations should be cleaned and disinfected regularly.
BACK TO THE OFFICE IS BOTH A RESPONSIBILITY AND AN OPPORTUNITY.
IT IS A CHANCE TO CARE ABOUT PEOPLE AND TO REDEFINE THE WAY WE WORK TOGETHER.