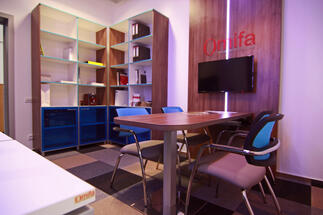 The office is situated in Liberty Technology Park, on 21 Garii St, and serves the clients in the central and northern part of the country. The company was constantly present on the market in Transylvania since 2008, offering consultancy services and office spaces design, office furniture and partitions, for companies such as UniCredit Tiriac Bank, IBC Focus, Esarom Sibiu or the International Airport of Cluj-Napoca.
 "The strategy of the new office will be to continue the success we had by now in developing working space fit-out projects in the region," has declared Mihai Olaru, general manager of Omifa. "In the end, Cluj-Napoca is the drive of the region's development and the area's good business environment suits perfectly our strengths: transparency, accuracy, know-how and flexibility."
The office in Cluj will benefit from the support of the Bucharest's headquarters.
 "We have big plans for the new opened office," Laura Irimies, regional manager Omifa Cluj added. "The city has European standards business centres and we meet the local prestigious companies' needs. WE offer a particular style in fit-out, which creates a modern and pleasant working environment, and this could help them to put their mark on such a dynamic market."
Founded in Romania in 2002, Omifa constantly developed its services, being today a complex constructor having the background of the necessary experience and competence needed to undertake a large range of projects. Specialized in integrated services for interior and exterior design, including consultancy, design, 3D renderings and project management, the company's services cover various sectors of the market: residential, commercial, administrative, hospitality and industrial.
Omifa registered EUR 2.7 million turnover in 2013 and during 2014 the company was involved in projects including the fit-out offices of an American client in Tetarom II Park, Hidroelectrica, Nobel Oil Downstream, Wrigley Romania and Qualitance Bucharest. (source: Omifa)