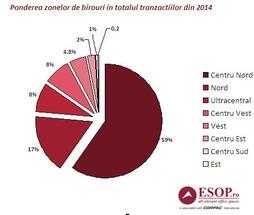 The third place, at significant distance, is occupied by downtown and centre-west area, each of them registering 8 pct of the total of transactions.
"New buildings with very large areas delivered in 2014 or in construction in the northern area have attracted most of the tenants, the proximity of the metro stations, of the expats residential neighbourhood, of the new mall, as well as the better quality of the projects representing the main reasons for the selection of these buildings. We estimate that in 2015 this area will maintain on the first position as total volume of transacted areas", has declared Alexandru Petrescu, managing partner Esop Consulting l CORFAC International.
The top buildings, favourited by the tenants in 2014 were Sky Tower, the tallest building in Romania, situated in the area Barbu Vacarescu in centre-north, with 11 contracts signed in 2014, Hermes Business Campus, in Dimitrie Pompeiu area, which attracted ten tenants on a total area of 14,000 sq. m, Ethos House, with six new clients and the business parks rented by the multinational companies which intended to consolidate their offices under the same roof - Globalworth Campus (TELEKOM, 25,000 sq. m), North Gate (Renault, 20,000 sq. m), Bucharest One (Vodafone, 16,000 sq. m) and Green Court (Orange, 13,700 sq. m).  
"We estimate that in 2015 and 2016, on top of the transactions in the north, the transactions in centre-west will start to increase as number and as rented areas, a number of projects cumulating over 100,000 sq. m being announced, such as Sema Park, Afi Business Park, Orhideea Towers", added Alexandru Petrescu. (sursa: dailybusiness.ro)