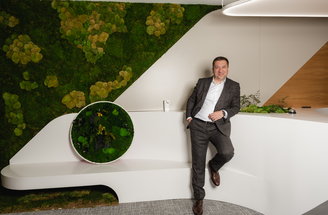 We talked to Florin Gheorghe, CEO & Co-Founder THETA Furniture & More, about the THETA business and the current market challenges, in an interview given exclusively to the Birouinfo.ro platform.
Florin Gheorghe is Co-Founder and CEO of THETA Furniture & More, with a proven executive management track record and over 20 years of experience driving sales growth in different industries as: consumer goods, flooring and since 2008 - in furniture&more. As the CEO of THETA, Florin is responsible for running all facets of the business. His skills in finding of the most appropriate ways to approach the company's target it is also based on his educational background. Florin holds a BS in Management & Marketing, graduated at Romanian-American University, Bucharest.
What does THETA mean - what are the values ​​that you have imposed yourself with on the market?
THETA Furniture & More means more than 12 years of experience in custom-made furniture production in our own production factory, out of which the last 6 years - in fit-out & interior design industry as an integrator of complete fit-out solutions.
From the very beginning, the passion and the vision of doing things "differently" set the trajectory of the business growth and development in the stage that we are currently in, meaning in the position of interior general contractor, with the ability to offer integrated solutions in various spaces, from concept phase to implementation &delivery. Our constant concern has always been to invest in our production capacity and technologies, building partnerships with valuable suppliers of standard materials and furniture, so that we can deliver unique, quality and sustainable projects to customers.
The company's values ​​are interdependent with the management's personal ones, of the entire team, in fact. Self-esteem, integrity, courage and perseverance are reflected in the attitude and positioning towards each client needs. Time invested in order to identify and fulfill the client requests and needs, creating a relationship and knowing him, effective communication, identifying solutions, time frame management, all those are already integrated in our lifestyle & business.
What are in your opinion your differentiators from the competitors?
The concept of value-added sales has been popular in recent years. The real challenge comes when, in today's market, where so many products and services are seen as simple merchandise, the ability to add value to the product or service offered must be an absolute necessity.
THETA Furniture & More is currently the only fit-out solution integrator that owns its production factory, near Bucharest. As a full interior general contractor, THETA's project managers can manage the project from the initial design phases to delivery and completion. Our construction and execution teams will coordinate all elements of the project to ensure that the project is delivered on time, within the budget and in accordance with the approved project.
There are several ways that THETA differentiates itself from the competition, through we consider that we add value. The main benefit for a client to work with THETA is that we have the responsibility for the whole process of the space fit-out, and utterly it is also reflected in the project cost effectiveness by reducing its expenses / time by 15-20% versus the alternative in which the client would collaborate with several service providers, simultaneous.
Having the advantage of "in house" production, we set out to deliver concepts in collaboration with our client, more precisely to co-create the final product with him, the real brand ambassador being in fact the client.
Modern materials, innovative accessories, state-of-the-art technologies (custom made furniture, standard furniture, smart ceilings, modern floors, lighting fixtures, glass partitions and others) have given us solid competitive advantages in order to meet the customer's requirements.
How would you describe in relevant figures your company's experience on the Romanian market, from launching to the present?
Within the 12 years + of experience so far we have consolidated a portfolio of projects from various industries, and we number currently total over 300,000 sqm of interior space delivered on time: 890 office spaces, 505 commercial spaces, 115 HoReCa spaces. The delivered projects had dimensions starting from 200 sqm up to 20,000 sqm.
Most of the furniture we deliver is custom-made, made in our own production factory. The production factory is today at a capacity of 5000 sqm, the start being of 700 sqm, and with expansion plans in the near future. Thus, we can say that half of the sales power is covered by the production of custom-made furniture.
From the first years of business we addressed also the international market and delivered projects in EMEA countries and not only, such as Belgium, France, the Netherlands, Germany and Hungary. Most of these projects consist of custom made furniture export but also of fit-out works for spaces such as: gyms, senior homes and medical centers of approx. 3000 sqm each.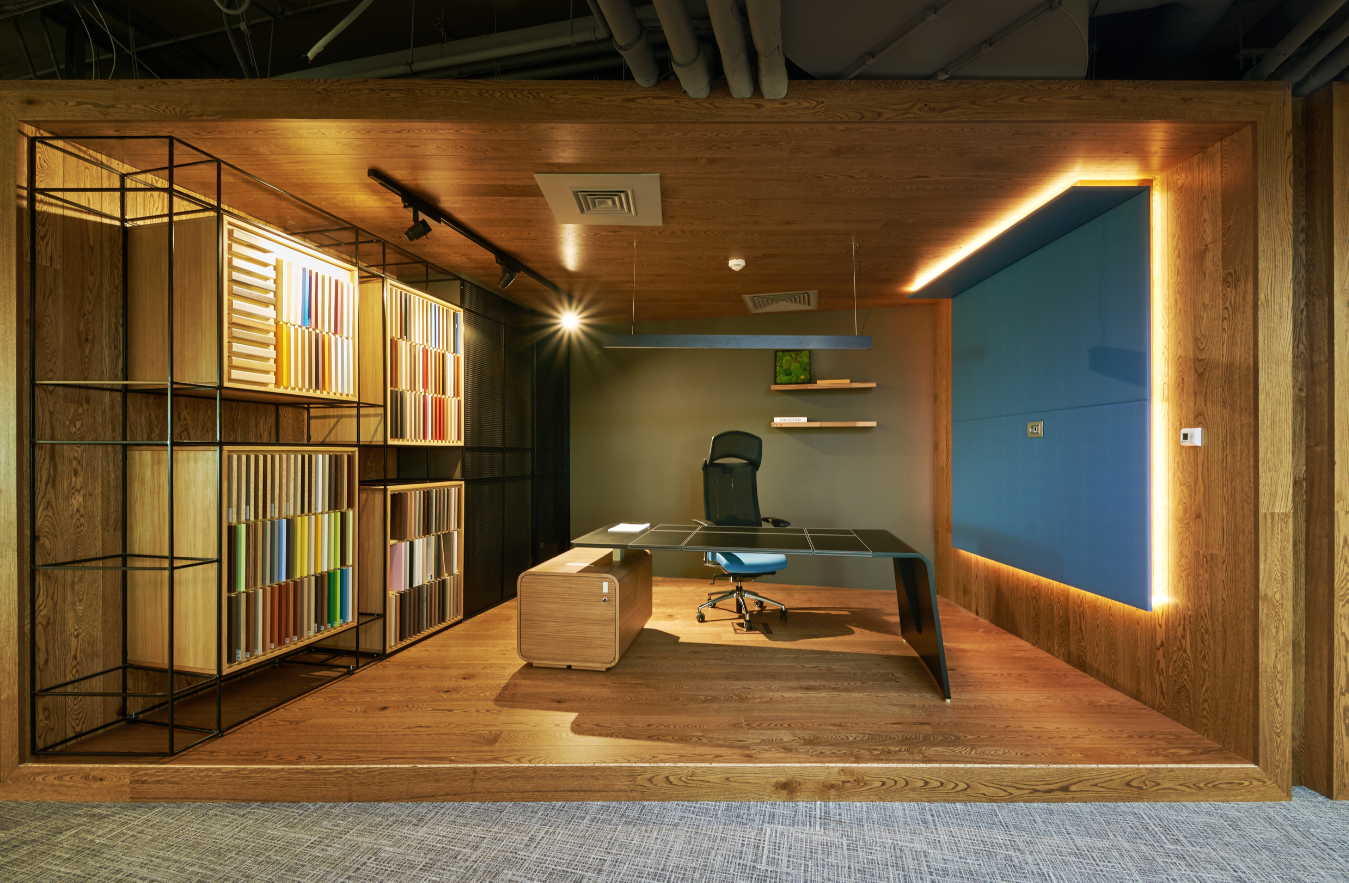 What are the aspects that a company that needs the services of a fit-out &design company should know?
The intention to create & implement spaces must be articulated to bring the user an authentic, safe and at the same time attractive experience. If custom furniture is not something you have thought about before, we can list several reasons why opting for custom furniture can bring a lot of wonderful benefits.
Flexibility & Adaptability
When you are choosing a custom-made furniture, you will get a final product that not only looks good, but is also adapted to your exact needs for quite a few reasons: preferences, budget, durability over time.
Personalized furniture allows the expression of identity
Each item we create together will add an element in space to its own unique style. It is, in fact, the perfect way to express your own personality, interests and design choices.
Cost effective
We are aware that finding the right concept for your office can be an overwhelming task. Our role is to facilitate the whole process, from the first concept idea to bringing the concept to life in space, all under THETA's umbrella, responsibility and execution.
What are the current design trends in the Romanian office market?
Wellbeing at the workplace is already a "must", it has not been seen for quite some years now only as a "nice to have". In the current pandemic context, the local office market in Bucharest and in the big regional cities, is constantly being reconfigured. According to the research made public regarding the built environment and the design trends of the offices, we understand how providing a safe and appropriate environment affects the well-being of employees, their physical & mental health, productivity and retention within the company. As interior design specialists aligned with these indicators, we believe that the top 5 office design trends may be the ones listed below:
1. Sustainable office design
2. Flexible working options
3. Person-centered design & well-being
4. "Smart offices", with a focus on digital technology
5. Connectivity and community.
What about your customers' requirements?
The office area is the one that has suffered and continues to suffer decreases in terms of space planning requests, as large companies have moved their business home. In the last year, customer requirements have changed, or rather adapted to current challenges, with increased care and attention to the well-being of employees and compliant with the social distance requirements imposed by the authorities. At the beginning of the pandemic, the recently completed projects and those in the process of completion, underwent changes in the subdivision of offices with open space areas, in areas of maximum 4 workstations at a distance of 2m from each other, introducing modular offices that offer maximum flexibility, as well as updating the entire VRF systems. The new projects have already integrated these features in the requirements that have already become standard, and also adapted according to the organizational culture of each client.
How does technology step-in in the modern fit-out process for office spaces?
More than 1 year of remote or mixed work (at home and in the office, in shifts) has forced us to improve our digital skills, the virtual environment being the most used. As more as more office space reopens, employees expect to find an environment in which first of all they feel safe. Digitizing current solutions is the most efficient method, a smart workspace that uses digital sensors to monitor and respond to needs such as the access to space, air regulation, natural light levels and more. Another smart method is mobile applications that can control various actions such as booking office space, they help maintain a smooth flow of staff, ensuring that one person touches a certain office every day. Advanced technologies with touching sensors will also allow employees to move around the workplace easily.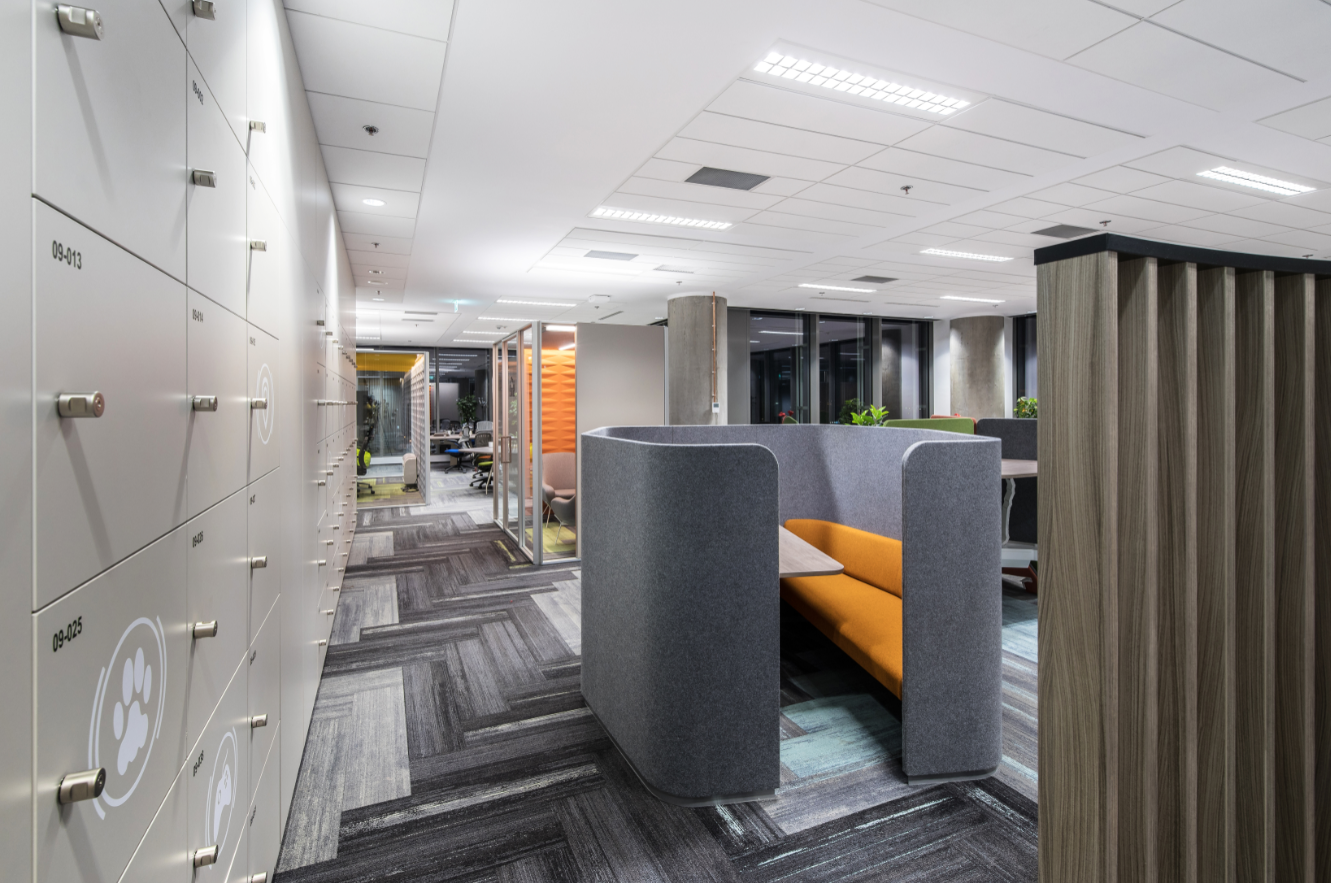 And an exercise of imagination, or maybe not really ... What does the Office of the Future designed by THETA look like?
The Office of the Future designed by THETA has particularities that we have already put into practice in the projects delivered so far, such as: soundproof walls, acoustic solutions, lighting solutions and others. The key word is flexibility, and the issue that needs to be addressed is at the human level. The concept we resonate with is the "contactless office" - which experts in the field predict will be able to be implemented especially by large organizations. Conference rooms could be equipped with voice-activated technologies to control lighting, audio and visual equipment. Accessing into the building and office rooms or even hand washing would require a simple gesture, and in the serving areas the actions could take place automatically.
From our point of view, the important indicators in defining the office of the future would be:
Various spaces to maximize productivity
Providing a variety of spaces will help stimulate a positive and friendly atmosphere, while improving concentration, collaboration and creativity. The already well-known trend for "community hubs" will support collaboration and generate informal meeting areas, independent work booths, which offer the comfort of a private workstation, instead of office rows, spaces for breaks, thereby a more resilient and flexible office center. Meanwhile, the cost of their implementation is reduced by a fraction of the estimated time and budget for the reconstruction of an entire office space. Also, outdoor spaces in buildings for employees use, will certainly be an alternative they will love.
Noise and acoustics
Unwanted noise can negatively affect staff productivity and fluctuation, and a good acoustic design uses a combination of strategies to absorb, block, and mask sound. This can be made from partition and glass walls up to more creative solutions, using acoustic panels.
Lighting
Lighting means more than visibility. A good light design will favor natural lighting. Energy-saving lighting systems, glass partitions that allow the flow of natural light, while creating an attractive feature, the arrangement of workstations as close as possible to the natural light source, are among the solutions we suggest. For the spaces that are not close to natural light sources, artificial light alternatives that take into account comfort parameters and color temperature, can be used as well.