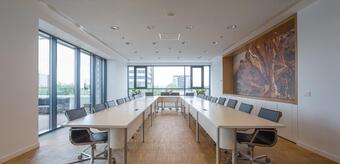 "Regardless the industry in which they activate, more and more companies have started to be more attentive to the needs of their employees and try to implement more professional solutions in their workspace design", said Iuliana Carata, General Manager of Techno Office.
According to the company's analysis, circa 30% of the companies who invest in such solutions activate in the outsourcing industry and they are shortly followed by the FMCG and IT – telecommunications companies, each of them occupying 25% in the top. Next in line are the companies who provide professional services.
"If we were to make a classification of the companies who registered the biggest increase in the number of employees, then the first companies who invest in office design are those in the IT and BPO (Business Process Outsourcing) fields. In the same ranking, we can include financial institutions, FMCG companies and those that provide telecommunication services", mentioned Iuliana Carata.
Regarding the budgets allocated for office space furnishings, the company's spokesperson estimates that the sums vary between 80-350 Euros/square meters for a complete fitting, without facilities.
"When assigning the budget, the size of the company and its number of employees are not relevant aspects. As a matter of fact, setting the budget means taking into account the actual need of the company, its working mode and wish to adapt it to the new requirements in the field, especially the technological aspects", said Iuliana Carata.
She also pointed out that the most substantial budgets come from law, notary and architecture offices – in fact, companies who provide professional services and to whom their image is essential.
Furthermore, the chosen style is closely related to the industry in which the company activates, which they try to adapt to the newest interior design trends. Thus, most of the companies are looking for customized spaces that will represent them as a team. Moreover, they pay a great attention to details such as design, shape, color and product functionality.
When referring to the most important trends that companies in Romania wish to implement, Techno Office observes that complete mobility and communication among employees obtained through building lounges and coffee shops inside the office, equipped with comfortable sofas and armchairs, are the most popular ones.
"Many of the companies in Romania have learnt to listen to their staff. Once their requests aim increasing their comfort level which will eventually serve a greater propose such as a higher return and productivity, companies will apply their requests through very precise strategies", said Iuliana Carata.
The Techno Office's spokesperson also mentioned that most companies who wish to invest in office furnishings will choose a specialized supplier that can offer them efficient, professional and customized services.
"Such collaboration presents a great advantage to companies who need complete solutions. The supplier's knowhow and proper activities management will bring the beneficiary an optimized project in terms of space functionality and time management and, not last but not least, a cost-effective project", mentioned Iuliana Carata.
Regarding the renewal cycle of office furniture, companies in the telecommunications and financial industries come first in line, since the rebranding is their main motivation.
Launched in 2008, TECHNO OFFICE is a joint venture owned by Iuliana Carata and Marco Magnani. TECHNO OFFICE offers complete office furnishing solutions, from counseling to project implementation.  TECHNO OFFICE has been in a continuous development process and has diversified its products range in order to offer only high quality services, becoming today a complete and complex supplier.
In Romania, the company is the exclusive importer of Haworth products. Moreover, TECHNO OFFICE collaborates with several other brands such as About Office, Styloffice, Sitland, Pedrali, Metalmobil, Luxy, Caimi, Emmegi, Arper. (source: Techno Office)