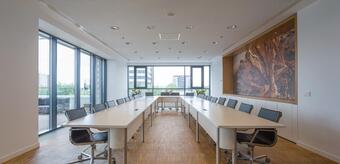 According to Techno Office, one of the main local providers of solutions for office space furnishings, total mobility and networking solutions are they key factors in this year's office design and more companies are starting to adapt their workspace to the new technologies.
Regardless of their organizational culture or the industry in which they activate, in the last few years, many companies have started to acknowledge the fact that the workspace has a powerful influence over the employees' efficiency. Therefore, their efforts now concentrate on delivering their staff efficient workspaces with an innovative design.
According to Techno Office, this year's office design trends are determined by the need of communication, both in terms of space partition, as well as among employees who wish to have the possibility to work remotely, via smartphones, tablets or laptops.
"Nowadays, companies are more careful to the needs of their employees and their efficiency becomes essential since the beginning of the planning process. Thus, in order to ease their communication, companies resort to building networking spaces, while taking into consideration the possibilities through which the staff can enjoy a total mobility", said Iuliana Carata, General Manager of Techno Office.  
How can we obtain a workspace that is proper for the new technologies?
In order to answer to the staff's need of communication, Techno Office recommends open spaces built in the central area of the office. Thus, these can work both as a formal networking point, replacing the classic meeting rooms, as well as an informal one, where people can enjoy leisure activities.
Also, the new multimedia and video technologies become more important in the meeting rooms. In this case too, mobility is a key factor because companies prefer wireless screens and projectors that can be controlled via mobile devices.
"The development of new technologies in office design has had a major, but positive impact on furniture manufacturers, since they were required to quickly align to the market's needs and start an improvement process on all their products" said Iuliana Carata.
According to the company's spokesperson, the best example in this regard is planning the space for videoconference rooms. This type of space requires installing a table that benefits from specific technological aspects that can facilitate quality online meetings, such as wireless connections. Also, such a room should have a high quality audio system, projection screens and special lighting systems.
Last but not least, offices nowadays are more and more creative. Following the example given by the IT companies, famous for their unconventional office spaces, many companies chose to set up an informal meeting place, which can increase the staff's efficiency.
Furthermore, when arranging an office, the quality and durability of the products become the main criteria for the company. Also, taking into consideration that many new companies desire custom made spaces, their following requirements are design, shape, color and functionality.
In terms of colors, Iuliana Carata observes the companies' necessity to choose stimulating or calming color combinations, depending on each organizational culture. Nevertheless, these are not picked randomly, since every company must take into consideration the brand identity it represents.
Launched in 2008, TECHNO OFFICE is a joint venture owned by Iuliana Carata and Marco Magnani. TECHNO OFFICE offers complete office furnishing solutions, from counseling to project implementation.  TECHNO OFFICE has been in a continuous development process and has diversified its products range in order to offer only high quality services, becoming today a complete and complex supplier.
In Romania, the company is the exclusive importer of Haworth products. Moreover, TECHNO OFFICE collaborates with several other brands such as About Office, Styloffice, Sitland, Pedrali, Metalmobil, Luxy, Caimi, Emmegi, Arper. (source: Techno Office)