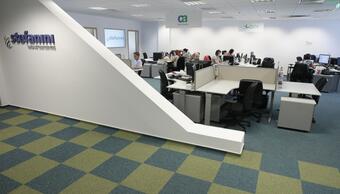 Stefanini's support center is located at the 1st floor of Multinvest Business Center I, the first green office building in Targu Mures, located in the historical downtown area. The office workspace has a surface of 300 m2 and spaces specifically dedicated to relaxation, all with a modern design that creates a pleasant work environment for the employees.
At the new Stefanini support center are currently working 20 employees specialised mainly in German and Hungarian, of which 80% have junior level positions and 20% are seniors. They provide services to international companies who need technical support in several foreign languages.
"We chose to open the third Stefanini center in Romania in Targu Mures to facilitate the future recruiting plans, given that people living here speak German and Hungarian, both languages being on increasing demand on the outsourcing market", said Andreea Stanescu, VicePresident Stefanini EMEA Delivery.
60 Stefanini employees in Targu Mures by the end of 2016
The company representatives want to triple the number of employees in Targu Mures in 2016 and reach a team of 60 specialists.
There are 10 positions currently opened at Stefanini Targu Mures for Service Desk Analysts, dedicated to German speakers, and for SQL Specialists, dedicated to candidates with experience working with this technology.
Stefanini employees have an attractive salary package, good career advancement opportunities thanks to the exposure to an international working environment and a number of fringe benefits.
People who want to develop a career at Stefanini Targu Mures may submit their resumes online, all opened positions being available on the company's website.
Stefanini is a Brazilian company with 28 years of experience in delivering IT services worldwide. Specializing in various industries, the company provides IT expertise to customers in areas such as financial services, telecom, insurance or public sector.
With a direct presence in 39 countries, Stefanini offers offshore, onshore and nearshore IT management services, including application development and BPO services. Recognized worldwide, Stefanini is among the 100 largest IT companies in the world (BBC News) and ranks fourth among the companies with the highest degree of internationalization, conducted by the Foundation Dom Cabral in Brazil. (source: nineoclock.ro)