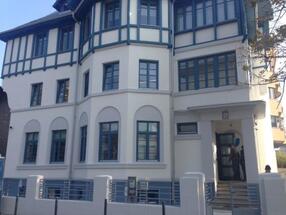 It is a refurbished five storey building located on the Dr. Ion Cantacuzino Street in the Charles de Gaulle  - Arch of Triumph area. It covers 1,000 sqm and hosts 85 working stations.
The IT company runs another office in the same area and has a total of 100 employees in the capital. The Bucharest branch was opened one year ago and it is the company's most recent.
"In a single year we have tripled our team. Most of our colleagues are experts with over five years of professional background in working with all IT technologies," said Mihai Raduta, the head of the Bucharest branch.
Softvision presently has about 1,200 employees in five centers countrywide. It was set up 16 years and has since grown to 16 offices in Romania and the US. (Source business-review.eu)