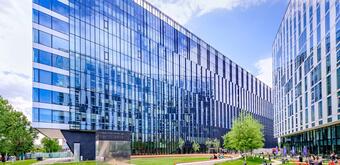 The two 11-storey Class A buildings, consisting of a leasable area of almost 38,000 square meters and 463 parking spaces, that are now handed over to S IMMO AG, are already 99% leased to reputable companies such as Microsoft and Société Générale European Business Services.
Friedrich Wachernig, member of S IMMO AG's Management Board, comments: "We are very pleased to have successfully completed the transaction of the Campus 6.2 and 6.3 office buildings. Both buildings are a first-class addition to our portfolio in the Romanian capital. Bucharest is currently one of the most important office markets in CEE and has developed into one of the most important IT & telecommunications locations in Europe. We are absolutely convinced that we will continue to see strong development here in the coming quarters."
Meanwhile, between signing the contract and handing it over to the new owner, Campus 6.2 and 6.3 obtained the WELL Health & Safety Rating certification, which attests Skanska`s priority to the health and safety of the employees, customers, partners, and the entire Skanska community, especially considering the current global context. Moreover, Skanska continued the works on one of the most innovative features of Campus 6.2 and 6.3: the first rooftop running track in Romania. The running track will be inaugurated by Skanska and will be open only to the occupiers of the building.
"We are happy to announce that the 6.2 and 6.3 buildings from Campus 6 become, as of today, part of S IMMO AG's portfolio. Campus 6 is an important project for us, a project through which we set out to create an entire ecosystem that would contribute to the well-being of all those involved in it: from the employees working in the office buildings to the entire surrounding community.", said Aurelia Luca, Executive Vice President Operations Hungary and Romania for Skanska's commercial development business unit in the EEC.
Throughout the whole process of selling and handing over the buildings Campus 6.2 & 6.3 Skanska was assisted by PeliPartners.
"It was a privilege to assist Skanska on this journey: the development and leasing to high profile tenants and finally the sale of a landmark project in Bucharest. This transaction also shows that doing business with high quality assets is a strong opportunity for the Romanian investment market in 2021.", said Oana Bădărău, Partner and Head of Real Estate with PeliPartners.
Campus 6.2 and 6.3 represent the second phase of the Campus 6 office complex, located in the Center-West area of Bucharest, on Iuliu Maniu Boulevard. Campus 6 complex has created a space that combines a healthy work environment with relaxation areas and facilitates access to a full range of services at the highest standards provided by World Class, Easybox, Total Wash, Help Net, and Lagardère.