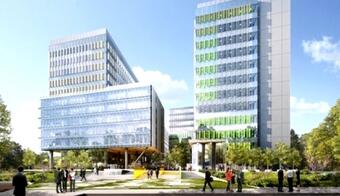 Skanska is now compiling its sales portfolio for 2016 and continues to purchase land for new development projects.
The company provided investors with eight new buildings in 2015. According to JLL, transaction volumes for the office sector in the Czech Republic, Hungary, Poland and Romania was approx. 2.4 billion Euro last year. Skanska′s 2015 sales activity (11 closed transactions) accounted for over 20 per cent of that total.
"Last year we conducted the largest office transaction in the history of Skanska CEE activity, a four building portfolio sale comprising projects located in two Polish regional cities, Krakow and Katowice. It was also the largest transaction conducted in the CEE office market in 2015," says Adrian Karczewicz, Transaction Director at Skanska Commercial Development Europe (CDE). "This deal, combined with the closing of the Green Horizon, Dominikanski and Malta House transactions, represented 25% of the total office sector volume nationwide, and more than 45 per cent of the sector overall volume in Polish regional cities. In addition, three more buildings, located in Prague, Ostrava and Bucharest, found buyers last year too. We saw increasing investor interest in office developments. Despite a slight dip in yields, CEE investment products often provide a higher return than similar assets located in western European countries."
This year Skanska Hungary Nordic Light will be completed and handed over to the tenants. It consists of two phases which will be delivered in May and in September 2016. The building is located at Vaci Road in Budapest and will comprise 26,200 sqm GLA. "Nordic Light is the only fully speculative office project on the Vaci Corridor that will be handed over in 2016. Many international companies like Schneider Electric, M&C, BASF, Harman decided to relocate their offices into Nordic Light and further lease negotiations are close to being finalised." said Marcin Lapinski, Managing Director at Skanska Property Hungary and Romania.
In 2015 Skanska commissioned four office buildings in the CEE region: Dominikanski in Wroclaw, Silesia Business Park B in Katowice, Green Court Bucharest B and Corso Court in Prague. The company signed leases for more than 110 000 sqm GLA in four countries in 2015. Currently the company has nine projects under construction, seven of which are located in Poland. Skanska Commercial Development Europe is currently developing its sales portfolio for 2016 that will offer buildings located in Poland, Czech Republic, Hungary and Romania. (Source: thediplomat.ro)