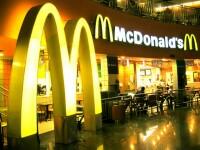 In 2014, the restaurant chain delivered over 49 million burgers and 4 million coffees in Romania, the most sold products being Big Mac sandwich and fries.
The company revamped or expanded four restaurants in Bucharest and outside the Capital City in 2014, and the total number of McCafé places reached 14 coffee shops.
"In terms of business perspective, we expect 2015 to be at least as good as 2014," stated in a release quoted by Mediafax, Daniel Boaje, general manager of McDonald's Romania.
The company has over 4.000 employees and collaborates with a network of 600 local partners.
McDonald's entered the Romanian market in 1995 with a restaurant in Unirii Square and currently operates 67 restaurants in 21 cities, with 150.000 customers on a daily basis.
McDonald's Romania business amounted in 2013 to EUR 94.8 (RON 415 million). (source: business-review.eu)