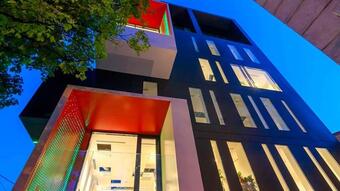 The transaction is evaluated at 2.8 million euros and was brokered by Crosspoint Real Estate.
The building is located on 89-91 Hagi Ghiţă Street, very close to Victoriei Square and offers 1,500 sqm of office space, spread over 5 floors, with a floor area of 200-300 sqm.
The building was delivered in 2013, fully occupied by the owner, and was originally built by LSG Group, a company specializing in integrated building technology, as headquarters and showroom, to present its engineering and infrastructure expertise.
"The multinational group initially planned to rent an office space to consolidate their operations. Crosspoint Real Estate offered an alternative purchase solution that had more meaning versus the rental option, a building that would meet the requirements of employees in terms of access, quality of the building and the balance between professional and personal life", according to Crosspoint Real Estatețs representatives. (source: economica.net)