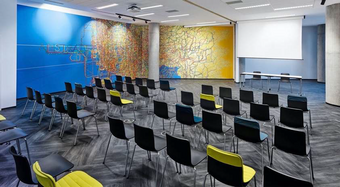 Configured for safety and comfort, the space has been finished with the utmost attention to architectural, design and technical details.
Hotspot Workhub is located on the first floor of the new The Mark office building on Calea Griviței, in a 2000 sq m office space with a huge lobby with a cafe and a 120-seat event hall in a central position.
Before the pandemic, up to 280 people could meet in the Hotspot Workhub space, thing that happened on the evening of the launch, in February 2020, and at the conferences and events of the German Chamber of Commerce, a member of the Hotspot Workhub.
The space has meanwhile been adapted to the new situation and a live streaming Studio was also created, with video cameras and professional projectors assisted by technical staff, high speed wi-fi, screen and cinema projector, in a set-up with Vitra furniture and exhibits by the famous illustrator Christoph Niemann.
"Our idea was to come up with a new type of location and a new approach, flexible and transparent, of the budget for the event, with everything it involves, from parking, catering and waiters, to state-of-the-art equipment and technical assistance provided by our partners. We would be happy to visit us and discuss over a coffee your event / course / conference / workshop format, so that we can think of a correct, personalized offer", said Hana Sârbu, Community Manager Hotspot Workhub.