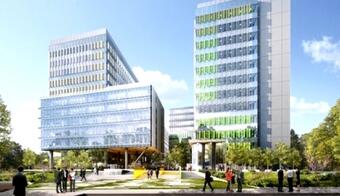 The 19,500 sqm (GLA) building was officially completed this October and it is 91 percent leased to tenants such as Schneider Electric Romania, Orange Romania, LS Travel Retail Romania (the operator of the '1 Minute' concept) and Corporate Management Events (the operator of  Best Chef).
Green Court is Skanska's first project in Romania. The Swedish developer started construction of the second building (18,000 sqm) this June. The entire project will feature 52,000s sqm of class A office space.  The construction of the first building and the foundation of the second one required a EUR 46 million investment, company representatives have previously announced.
Globalworth Real Estate Investments is controlled by Greek businessman Ioannis Papalekas. The company's real estate portfolio comprises of properties totaling over 450,000 sqm (GLA). This includes office projects such as City Offices, BOB, BOC, Upground Towers and Herastrau 1, all in Bucharest.
"We are pleased to announce the acquisition of the first building of Skanska's Green Court development project. This (…) newly built A-class office property is strategically located in Bucharest's new central business district, very close to our existing Bucharest One development. It benefits from top environmental credentials and is let to top-brand tenants on long term leases. This transaction constitutes an important milestone towards achieving our objective of owning the highest quality portfolio in the Bucharest office market," said Dimitris Raptis, deputy CEO and chief investment officer of Globalworth Real Estate Investments.
Given that Deutsche Telekom announced last week that it has leased 25,000 sqm in the first building of Papalekas' Globalworth Campus office development in northern Bucharest and Vodafone will move in Bucharest One, all three major telecom providers in Romania are now the businessman's tenants. (source: business-review.eu)