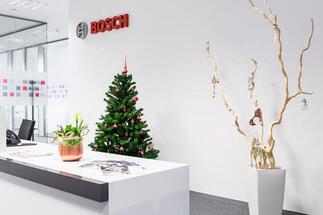 The new center will offer additional shared services in the financial and accounting segment for the Bosch group. The services include financial reporting, general accounting, debt and receivable management, trip and expense management, and other accounting services, according to the company.
"The second business services center in Timisoara will be a step forward in improving the efficiency and service quality and for simplifying the procedures within the Bosch group," said Joerg Fischer, the new president of Bosch Service Solutions.
The company will have 6,700 sqm of office space in Timisoara, up from 4,200 sqm until now, which will allow it to expand its team.
Bosch Service Solutions currently has about 570 employees in its center in Timisoara and plans to increase this number by 20% next year. The center is currently recruiting economists, call center agents, projects managers, IT support specialists, SAP analysts, and technical support staff.
Besides financial and accounting services, the service center also provides IT services, customer relations services, supply chain management, document management, and web-based training for the Bosch group.
Bosch Service Solutions Romania had a turnover of EUR 11.7 million and a net profit of 1.3 million in 2014, according to data reported to the Finance Ministry. Romanian Raluca Romanu manages the local operations.
Bosch has been operating in Romania for over 20 years and currently has some 3,000 employees in four companies. The business entities include a research and development center and an automotive factory in Cluj-Napoca, two production facilities in Blaj, the service center in Timisoara, and a distribution company in Bucharest. (source: Romania-insider.com)