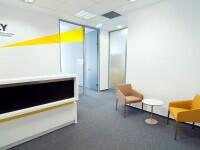 "In 2015 we celebrate 7 years since we opened our office in Cluj-Napoca to provide services to rapidly growing companies in the area. Contrary to general trends, the business environment in Cluj has increased remarkably during these difficult years, marked by the financial crisis. The region has grown rapidly into the second economic pole of Romania, after the capital. And we at EY Cluj, grew together with the businesses we serve," says Bogdan Ion, country managing partner, EY Romania.
The new space, built on the concept of Workplace of the Future, aims at increasing collaboration through open spaces, while allowing for flexibility in schedules and meeting spaces.
EY is one of the largest professional services firms globally, with 210,000 employees in over 700 offices in 150 countries and a turnover of some USD 27.4 billion in 2014. EY Romania became active in 1992 and has offices in Bucharest, Cluj-Napoca, Timisoara and Iasi.
Over 650 employees in Romania and Moldova provide seamless assurance, tax, transaction and advisory services business for multinational and local companies. (source: business-review.eu)