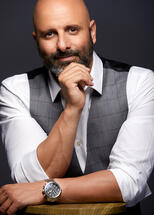 With over 15 years of experience in the real estate markets in Central and Eastern Europe, Ziv Gigi has developed and managed for GTC office and retail projects of over 450,000 sqm. After starting his career at GTC in 2008, he was promoted to CFO for Bulgaria and Serbia, gaining the necessary experience to be nominated for the position of Country Manager Romania, which he has held since 2021. Appointment of Ziv Gigi in this function represented the recognition of his skills in procurement, financing, project management, feasibility as well as large-scale development and operational management, in projects in the dynamic, expanding real estate markets.
Financial expertise and investment skills for development have been favorable for his current promotion as Country Manager of Bulgaria and Romania, two rapidly developing EU countries with strong real estate markets.
In addition to his impressive expertise in asset development and management, Ziv Gigi is a CPA Certified Accountant with over a decade of experience in financial management, specializing in capital raising and strategic planning. Prior to joining GTC, Ziv worked as an auditor for Ernst & Young Israel and as CFO for a private developer in Hungary and Turkey.