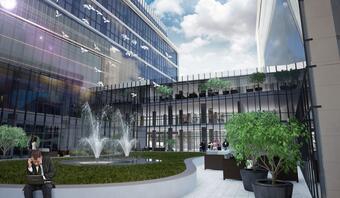 "We are continuing the development, in 2014 we plan to considerably increase Yardi Romania's team" has declared Andrei Dragomir, IT & operations manager of Yardi Romania.
Yardi has 30 offices in North America, Europe, Middle East, Asia and Australia.
With this new contract, the occupancy rate of the first building within The Office project reached approx. 50 pct. The company is in advanced negotiations with different companies, the developer's officials estimating that new contracts would be signed by the end of May. The first phase of the project has an area of 19,000 sq. m.
"Apart for the already signed contract we are carrying advanced negotiations with some other IT companies with relevant presence in Cluj and also with two companies which are not yet present in the city. We hope to announce very soon new lease agreements, even before the inauguration of the first phase of the office complex The Office Cluj-Napoca, in the end of May", said Lori Collin, leasing manager NEPI.
The concept of "The Office" project also includes services component, mainly concentrated in building's ground floor. Apart from the coffee shop, wine bar, pharmacy and the Lunch Box restaurant, agreements were signed with several local or international operators. Therefore, La Casa bakery, the tour operator TUI and Corporate Office Solution, exclusive representative for Steelcase, world leader in office furniture, will insure a proper services mix for more than 5,000 employees which will work in the building upon the project's completion.
The Office Cluj-Napoca is an A class office complex situated in the central area of the city, developed by the South-African investment fund NEPI in partnership with Timisoara's entrepreneur Ovidiu Sandor.
The project has a rentable area of 54,000 sq. m and includes three development phases, the first one, of 19,000 sq. m being scheduled for completion in mid-May; the entire project is scheduled for completion by 2016. The office complex's tenants also include apart from Yardi companies such as Three Pillar, Deloitte and Lunch Box.
"The Office" Cluj-Napoca has already obtained the green building certification, BREEAM Excellent, in its project stage. (source: wall-street.ro)