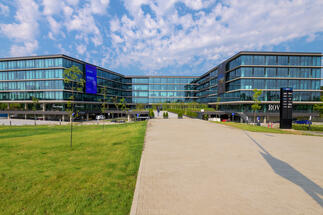 The MIRO is co-owned by SPEEDWELL, one of the most significant real estate developers on the Romanian market, and Hili Properties, the majority shareholder in this prime business building.
WIREN Romania has previously collaborated with SPEEDWELL for the installation of photovoltaic panels within MIRO Offices, in Bucharest, and RECORD PARK, in Cluj-Napoca, for the office building and fitness center, part of its mixed-use project. SPEEDWELL and WIREN are also in discussion for the installation of photovoltaic panels for SPACEPLUS, the industrial-logistics concept for SMEs. WIREN will commence its tenancy within MIRO in the next few months.
Situated in the Northern part of Bucharest, on the DN1 road, and developed around the principles of well-being, connectivity and visibility, MIRO represents a new landmark for businesses looking for a well-connected office location with premium features. The five-storey office building offers its tenants 3 meters clear height, a rentable area of 23,000 square meters of class A office space, with floor plates of over 4,500 square meters, and 1,700 square meters of outdoor relaxing space. The building also benefits from a smart parking system, equipped with charging stations for electric cars.
"We are proud to welcome WIREN România in their new office location, at a moment when the company is growing within the country, but at the international level as well. As MIRO encompasses tenants of all sizes that are looking to grow in the most fruitful conditions and within innovative facilities, we believe that WIREN will have the right visibility and position for its prosperous future. MIRO is a very dear project for us as it was conceptualized and developed by ourselves and we are very pleased with the outcome, as the project's high-end design is aligned with the latest standards of the workplace, certified by BREEAM and WELL.", said Jan Demeyere, Architect and Co-Founder of SPEEDWELL.
"When our business partners become our tenants, we know we are doing things the right way. WIREN is strongly equipped to answer the needs of an individual to a business or institution and even industry level. We are happy that MIRO facilities have been built to accommodate top-level tenants that produce a positive impact everywhere where energy expenditure and costs can be saved. With WIREN on our side, literally and figuratively, we are set to continue our sustainability journey across projects. And with MIRO becoming a community of businesses with like-minded people, our vision for the next generation of office space has come true.", said Didier Balcaen, CEO and Co-Founder of SPEEDWELL.
"We are honored for our continued partnership with SPEEDWELL and we are, indeed, enthusiastic about our new office address and space within MIRO OFFICES, where we recently contributed to achieving its energy independence goals. Working together, not only as a tenant but as a partner in lowering the carbon footprint, is a promise that we all should aspire to make, at an individual or business level.", said Dan Fleșariu, CEO WIREN.
MIRO provides a range of facilities that makes it a one-stop-shop for the modern professional. The building has an on-site restaurant, a friendly coffee corner for tenants, and easy access to THE IVY, the premium residential ensemble. Positioned in the Băneasa area of ​​Bucharest, tenants and visitors also benefit from the nearby vicinity of Băneasa Shopping City, easy access, including public transport, with the city center of the capital, with fast direct access to Henri Coanda International Airport.
MIRO is certified with both BREEAM Excellent and WELL-PLATINUM – which represents the highest level obtained so far in Romania. The double certifications ensure that SPEEDWELL pays attention not only to the sustainability of the building and building materials but also to the workplace wellbeing.
MIRO tenants include ROVERE MOBILI, CEGEKA, EATON, KPMG Romania, COS (Corporate Office Solutions), MASIA, NEOCLINIQUE, MITZU, STRADALE, DOCTOR SKIN, HISKY and JURA.
The MIRO office building is co-owned by Hili Properties and SPEEDWELL. After developing and delivering MIRO, SPEEDWELL sold 75% of its shares to Hili Properties, the strategic real estate investor headquartered in Malta.