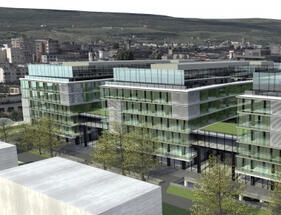 The real estate developers have seized this opportunity and will deliver more than 50,000 sq. m of new office spaces only this year, according to Andrei Vacaru, head of research & consultancy within JLL.
"The market in Cluj has constantly, dynamically and organically grown, therefore becoming the most attractive office market after Bucharest. Well-known international companies are opening a large number of offices here, proving that the combination between the labour's competence and the friendly business environment is a working recipe", said Ana-Maria Vrabie, office consultant within JLL.
Regarding the expansion of the office component of Iulius group in Cluj-Napoca, this is due to the interest shown by the partner companies in developing and consolidating their operations locally, preferably in one location. Moreover, multinational IT companies and not only are analyzing new opportunities of relocation in new office buildings offering a quality work environment with the possibility of expanding the occupied areas, according to Dan Zaharia, manager of United Business Center.
"The city of Cluj-Napoca has the advantage of being a talents pole in Romania, developed both by the academic and business environments. A significant reliability input is also created by the existence of the IT cluster, which succeeded in increasing the competiveness level of the sector and the quality of human resources ", Zaharia added.
"The request proved that Cluj- Napoca needed A class office buildings, with last generation technology and design, generous parking, large capacity floors, both with the density of working posts per floor and the floor's dimension of up to 6 or 9 thousands metres per level. The location, the building's efficiency and the possibility for the tenant to grow organically remain the three main factors underlying the right decision. Cluj-Napoca has the chance to harmoniously develop on long term with such constructions", considers Lori Collin, NEPI Investment Management.
In her turn, Angela Potra, sales and marketing manager within Liberty Technology Park Cluj says that the large number of IT&C and R&D choosing Cluj-Napoca both for new offices and for the companies' relocation, are transforming the city into a prolific business destination.
"Adding to this fact the unlimited human resources potential one can easily see why Cluj becomes a stable ecosystem both for national and international companies, rapidly approaching the Capital. Moreover, the universities talented graduates increased interest for new technologies will transform the city into a technology driven one", estimates Angela Potra. (source: dailybusiness.ro)