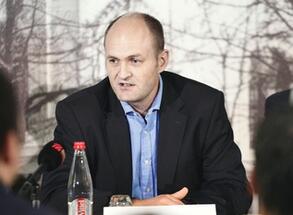 Slabbert first came in Romania in 2005 to join the corporate division of the consultancy group Deloitte. "I wasn't taking it to seriously", he has declared about the first experience in Romania, however in 2007 he founded the investment fund NEPI, after having persuaded the South-Africa's group Resilient to become shareholder in the company.
The most important acquisitions were made starting 2009, after the crises started: European Retail Park project in Brăila, Iris project in Piteşti and the office building Floreasca Business Park in Bucharest. Currently NEPI became the largest investor in Romanian real estate, with a portfolio exceeding one billion Euros, including projects such as The Lakeview, Floreasca Business Park, CBC Timişoara, City Park Constanţa, Ploieşti Shopping City or Promenada Mall Brăila.
"The last five years were great. We learned a lot, reached a team of 150 people and thus developed our capacity to invest money.", Slabbert declared.
The south-African who increased in the last five years the portfolio of the investment fund NEPI from EUR 85 to EUR 874 million has received last year a retainer of EUR 225,000 as CEO of the company, according to NEPI's annual report.
The entrepreneur is a graduate of the North West University and of the University of Johannesburg. He started his career within the South-African bank Nedbank, where he had the position of general manager for four years, being recruited in April 2004 by Premier Foods for a CFO position within the company. (Source: zf.ro)