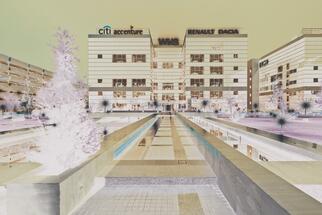 Developed by the company Genesis Development, controlled by the businessman Liviu Tudor, West Gate is an office complex in Western Bucharest.
On the background of the company's expansion, the headquarters of Accenture in West Gate will totalize 6,300 sq. m office spaces.
"Our tenants' tendency to develop continued this year too and with the expansion of Accenture, the occupancy rate in West Gate has increased to almost 98 pct", has declared Liviu Tudor, the president of Genesis Development. "West Gate positioned since the beginning as an office park offering to the tenants the possibility to expand, increasing in its seven years of functioning from 15,000 sq. m to 75,000 sq. m office spaces", also added Liviu Tudor.
The company of management consultancy, technological services and business externalization services Accenture relocated its activity in West Gate in 2008 end occupied by far an area of 4,900 sq. m. The company has worldwide over 293,000 employees, being present in over 200 cities and 56 countries.
Other important expansions recently done in West Gate were: Ericsson (from 12,000 to 16,000 sq. m), Société Générale (from 2,500 to 5,000 sq. m) and WNS (from 1,500 to 4,000 sq. m).
The companies having headquarters in West Gate also include: Dacia Renault, Siemens, PPD (Pharmaceutical Product Development), Panasonic, Citibank, Alpha Bank, Carestream Health and Medicover.
West Gate, situated in Militari neighbourhood, in the close vicinity of Preciziei underground station, includes five office buildings with a total rentable area of 75,000 sq. m. The office complex is green certified according to BREEAM system. (source: Genesis Development)