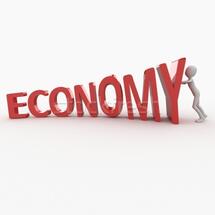 The World Bank (WB) estimates that Romania will record in 2014 an economic growth between 2.5 and 3 percent, possibly even higher, in case it will turn out to be a good agricultural year.
"The macroeconomic situation, which is already good, will continue to consolidate in the context of the program with the International Monetary Fund (IMF) and the European Union (EU). The fiscal deficit will narrow further, end-year target agreed with the IMF is to 2.2 percent of GDP, and the government is also working to improve spending composition, particularly by upgrading the framework for public investments. Inflation has reached a historical low of around 1 percent year to year in March, although it may increase towards 3-3.5 percent in the second half of the year due to a base effect; prices of food products brought down inflation in the second half of last year. The current account deficit is firmly under control: -1.1 percent of GDP in 2013, and estimated -1.5 percent in 2014. Access to the domestic and international financial markets is good, and Romania issued this year its first 30 years bond. (…) However, non-agriculture growth will very likely be higher than the 2.4 percent of last year, driven by an acceleration of domestic consumption and improvements in investment, particularly due to the absorption of the EU funds," said Elisabetta Capannelli, Country Manager for Romania with the WB during an interview for Agerpres.
According to her, the acceleration of the reforms in energy, with privatization, corporate governance, price liberalization etc., in transport, health, public investment, and a better alignment of the policy agenda with the budget should boost the medium term growth potential of Romania to 4-5 percent/year and accelerate the convergence with the EU.
"Romania is currently at around 50 percent of the EU 28 average in terms of GDP per capita at PPP, up from around 28 percent a decade ago. This is a remarkable catching up", the WB official said. She underlined that one of the greatest challenges this year is to stay on track with the structural reforms, as planned.
"We are convinced however that the government will show the same determination as in the last few years, when Romania also went through elections. Externally, the challenge is the crisis in Ukraine. The crisis in Ukraine and Crimea could impact Romania and other CEE countries, but the direct and immediate threats are limited because these countries are well anchored with the European and NATO membership. Romania has also a significant degree of energetic independence and limited exposure from trade with Ukraine and Russia," said Capannelli. (source: nineoclock.ro)