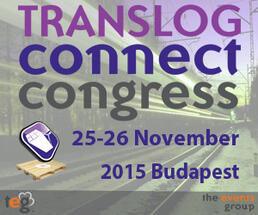 Responding to recent trends, CEE's leading summit of logistics and SCM professionals, TRANSLOG Connect Congress will put logistics 4.0, E-commerce, multichannel logistics and other innovative trends in its professional focus. Decision makers from the region's leading companies and the most important service providers get together in Budapest not only to discuss recent and future changes, but to shape the industry on the spot through over 1500 pre-scheduled one-to-one meetings.
From logistics 4.0 to online airfreight management 
Prof. Dr. Sebastian Kummer, Head of the Institute of Transport and Logistics at Vienna University of Economics and Business will kick off the event with an insightful opening presentation about recent trends in logistics. Paul Copil, Chief Operations Officer at Fashion Days Group is speaking about Logistics & Operations with Style, while Chaim Huijsman, Head of Corporate Sales at Gebrüder Weiss presents case studies about challenges concerning B2C home deliveries. Thomas Grunau, Head of Global Marketing from KUEHNE + NAGEL together with Holger Schmidt, Head of Logistics Procurement EMEA at Johnson Controls will introduce a cutting-edge online solution for airfreight orders, along with several other top speakers.
CEE's best solutions and game-changing meetings 
During the event at least 1500 pre-scheduled one-to-one meetings will take place between top service providers and decision makers of companies across various industries, making a thousand changes in the industry in just two days. The main sponsors of the event are strategic partners Gebrüder Weiss, C.H. Robinson, Kuehne + Nagel and Raben Group. Numerous other high-quality vendors are going to present their innovative solutions, including DB Schenker, DSV, Duisport, EKOL Logistics, Ehrhardt + Partner Group, Linde Material Handling, L-mobile Hungary and Prévost Hungária, along with newcomers Tibbett Logistics, APTUS Software, TITAN Containers, Dexion Storage Solutions, GE Lighting, Transalliance, LGI, Far East Land Bridge, Panalpina, Hungarian Post, Maltacourt Hungary, the Port of Antwerp, Sectran Backoffice, and XPO Logistics, a US based company that recently bought Norbert Dentressangle to enter the European market.
The 3rd Central Eastern European (CEE) Logistics and Supply Chain Management Excellence Award will also be presented during the congress. Selected by a highly renowned independent jury, the prestigious award honours outstanding logistics and supply chain management solutions in CEE. Applications are open until 15 October for service providers, manufacturers and retailers who would like to put their solutions – and their businesses – in the spotlight.
Mixing pleasure with business 
It is not only the 5-star location of Corinthia Grand Hotel Royal that makes TRANSLOG Connect Congress a truly joyful event for attending top professionals. Other perks include an exclusive plant excursion to the Mercedes-Benz Manufacturing Plant in Kecskemét and a cocktail reception at the end of the first day, providing further opportunities for quality networking.
The 5th TRANSLOG Connect Congress will take place on 25-26 November in Budapest, Hungary. For more information about the event, please visit www.translogconnect.eu or contact the organizers at [email protected].