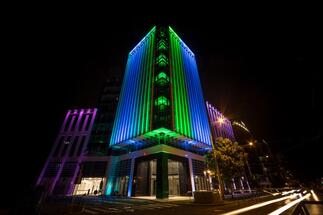 Located in the Victoriei Square area, 200 meters from the Government headquarters, Țiriac Tower covers a total built area of 30,969 square meters, of which 16,472 sqm of modern class A offices for rent, arranged on 12 floors and ground floor. In addition to office and commercial spaces, the new building offers an underground area with 5 levels, 259 parking spaces, multiple bicycle stands, showers and locker rooms, gas stations for electric cars, and about 700 square meters of green terraces.
The investment was quickly noticed by companies that need a central location, easily accessible, but especially optimized in terms of efficiency and consumption. As a result, Țiriac Tower has reached an occupancy rate of 75% at this time, in advance of the completion of the building. The location has thus become a pole for the big players of the insurance, real estate, health & pharma industries, but also of the media and IT services.
The high standards of safety and efficiency met, as well as the technology invested in the new project place Țiriac Tower in the exclusive category of buildings with top LEED Platinum and Well Health-Safety certifications. Thus, efficient solutions to reduce water consumption, access to 75% natural light for the occupied area, state-of-the-art HVAC systems and LED lighting solutions translate into a 30% reduction in the annual cost of utilities, compared to a standard reference building, for the benefit of Țiriac Tower tenants.
At the same time, through its preferential positioning, Țiriac Tower offers easy access to a variety of socio-cultural attractions in the area, such as museums, parks, clinics and hospitals, restaurants, schools, supermarkets, but also to the main means of public transport. (source: Țiriac Imobiliare)