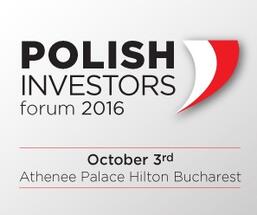 The forum is centered on captivating discussions about Polish investments, trends and new business opportunities as well as inspiring success stories and personal experiences of Polish top executives.

Poland has become one of the strong European countries, with a steady growth celebrating 26 years since their economic transformation and 11 years as a member of the EU. Poland's growth has been based on brain power, entrepreneurship, and hard work, elements that the Polish business community are searching for when investing in foreign countries as Romania.

With a total value of 4.5 billion euros in trade between the two countries in 2015 and a significant 800+ Polish companies active in Romania, Poland is without a doubt one of the fastest-growing investor's communities in our country.

The event will focus on discussing the opportunities and challenges brought by Romania in terms of Polish investments, which areas attracted most polish investments in the past year, solutions to a friendlier business environment as well as demands of a new investor.

We are honored that HE Marcin Wilczek, the Ambassador of the Republic of Poland to Romania, is joining us for the first edition of Polish Investors Forum. The event program includes a panel session followed by a networking cocktail, so please join us for an evening filled with interesting debates and opportunities for business matchmaking.

Additional information about the agenda of the event and speakers can be found on the event webpage.
Those interested in participating at Polish Investors Forum can register online or directly by phone at +40 31 040 09 31, or email [email protected]