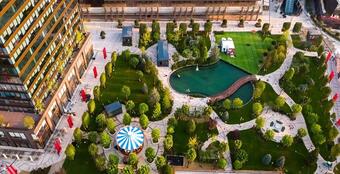 Iulius Town assumed the integration of Iulius Mall Timisoara in a large urban regeneration project, supplementing it with retail, office and entertainment functions. Of the total value of the project, up to now, 327 million euros have been invested, including Iulius Mall Timisoara, to which is added another 115 million euros destined to the development of the highest office building in Romania, under construction.
Iulius Town represents the first mixed-used type of project in the west of the country and the second in the portfolio of IULIUS company, after Palas Iasi.
"In 2005, when Iulius Mall was opened in Timisoara, I knew we would not stop here, and our customers confirmed this expectation. Iulius Mall quickly integrated into the life of an audience that went beyond the country's borders and forced the project to continue on a much larger scale. Today, Iulius Town is the city within the city, a multifunctional project that generates added value for the community and the entire area. Together with our partner, Atterbury Europe, we have developed a regional business hub, which contributes to economic development, but also a cosmopolitan shopping and relaxation space, unique in Romania", said Iulian Dascălu, President of IULIUS.
"In June 2017, we signed with IULIUS a 50/50 joint venture to accelerate the rapid development rate for Iulius Town Timisoara and other projects. Our partnership produces solid results, as can be seen in the first absolutely impressive stage of mixed development with retail, entertainment and office buildings", said Henk Deist, CEO of Atterbury Europe.
Located in the center of Timisoara, Iulius Town represents the most important real estate project inaugurated this year on the Romanian market. Iulius Town is a record sum: the largest retail area outside Bucharest - 120,000 sqm, 450 stores - and the largest offer of Class A office space in the region - over 100,000 sqm.
The park in Iulius Town involved an investment of 8.7 million euros.
Iulius Town also has an ultra-modern conference center, with three elegant rooms and a capacity of up to 1,000 people, which will host business and private events.
The first stage of development of Iulius Town includes over 100,000 sqm of offices, in which approximately 13,000 people will work. The first three buildings are operational (50,000 sqm rentable), among tenants being multinational IT, automotive and customer support companies. The fourth office building, under construction, will be the tallest building in Romania. United Business Center 0 (155 m high, 27 floors) will include 52,000 sqm office leases, a 3,000 sqm medical hub, restaurants, shops and a conference center.
Iulius Town involved significant investments in infrastructure, totaling 13 million euros.
Also in terms of infrastructure, another 40.7 million euros were invested in parking spaces. (source: news.ro)