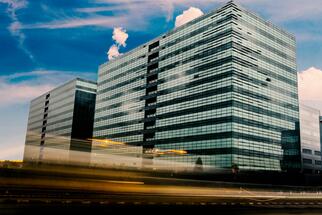 Both tenants will establish their headquarters in the first building of the complex which was refurbished with an investment of 7 million euros, and finalized at the end of 2019. Circa 60 people will work in the offices occupied by the two tenants. CEE Estate was the consultant for TC Capital in signing both lease agreements.
Shikun & Binui is an international company operating through its branches in Israel and around the world, and involved in various fields of activity, including infrastructure, real estate development, water supply and energy. Another important lease that has recently been concluded in Hyperion Towers is with Danya Cebus, an international construction company and part of Africa-Israel Investments. The activities are centred in the fields of residential construction, building commercial and office spaces, infrastructure development, and industrial design and manufacture, with projects in Israel, Romania and Russia.
"We are very happy that we concluded these partnerships with two strong international companies that chose Hyperion Towers as their headquarters. We are proud to say that after an extensive refurbishment process, Hyperion Towers meets high standards of class A office building segment. Therefore we are confident that this is the beginning of a strong and long term collaboration between us and our new tenants. We believe that the demand for office spaces in this part of the city will continue to grow in the upcoming period, considering that Pipera is one of the fastest growing areas in Bucharest", stated Ali Çapa, CEO of TC Capital.
Hyperion Towers is an office project owned by TC Capital, a property investment and development company located in Romania and lead by Ali Çapa. The ensemble comprises two buildings with a combined surface of 40,000 sq. m gross leasable area of Class A office spaces with ample parking capacity. At the moment, 50% of building A is leased or sold. Among the other tenants from the first building there are companies such as: Euromedia, Adnet, RoMega Trade, Jotun, Skills Advertising, CEE Estate etc. TC Capital is currently engaged in advanced discussions with other potential tenants, active in various industries: marketing, audio-visual, trade, IT etc.
At the end of 2019, TC Capital launched a new investment type for the Bucharest office market. Thus, Hyperion Towers, situated in a strategic position on Pipera Boulevard, became the first large scale class A office project to be sold in smaller surfaces, starting from 200 sq. m. According to TC Capital's representatives, the new business model generated a lot of interest on the market and they are presently in negotiations with several companies. (source: TC Capital)