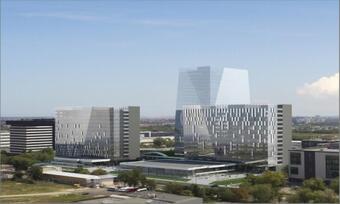 "With its subscription for new shares, Growthpoint's significant capital injection into the company will provide the key to unlocking exciting new growth, strategies and prospects for Globalworth," Growthpoint said in a press release. "Immediately, it enables Globalworth to fully develop and lease up its excellently located 87,800 sq m three-tower A-grade Globalworth Campus multitenant office project in northern Bucharest as well as supporting Globalworth to pursue attractive pre-identified investment opportunities in Romania and the broader CEE region."
With access to Growthpoint's institutional knowledge, Globalworth will introduce enhanced governance, an active dividend policy and build its institutional investment appeal with the prospect of greater liquidity for Globalworth's shares, the company added.
"We believe that this transaction will transform our business and we look forward to working together with Growthpoint towards creating one of the leading institutional real estate investors in the region," Globalworth's CEO, major shareholder and founder Ioannis Papalekas said. Following Growthpoint's initial subscription, Papalekas will continue to own 25.7% of the share capital of Globalworth.
Growthpoint's subscription for the initial 26.9% stake in Globalworth is below the mandatory offer threshold of 30%, and will be funded in euro. Globalworth has agreed to issue Growthpoint a further 1,000,000 fully-paid up fee shares by December 31, 2017, thereby increasing Growthpoint's stake in the enlarged share capital of Globalworth to 25.3 million shares, or 27.7%. For Growthpoint's shareholders, Globalworth's growth will be earnings enhancing over time, Growthpoint said.
The transaction is subject to the usual conditions precedent, including approvals from the South African Reserve Bank and Globalworth's shareholders. Already, irrevocable commitments in favour of the transaction had been received from shareholders holding more than 75% of shares in issue.
The transaction is part of Growthpoint's investment strategy in Central and Eastern Europe (CEE), where Growthpoint sees good opportunities in view of their relatively high real estate yields and growing demand for quality, and modern commercial property.
The region achieved 3.1% real GDP growth in 2015, nearly double that of the euro area, driven by a young, skilled and cost-effective labour market, competitive industries, EU funded investment in infrastructure, greenfield foreign direct investment in manufacturing, and business process outsourcing from multinational corporations, the company noted. What's more, its growth is expected to exceed 3% over the next five years, it added.
Growthpoint is the largest South African primary listed REIT which owns and manages a diversified portfolio of 530 property assets.
Globalworth Real Estate Investments' current portfolio comprises of 15 high quality properties and an asset manager platform all located in Romania. Its 1 billion euro property portfolio includes mostly modern A-grade offices, industrial properties, a residential complex, as well as developments. (source: seenews.com)