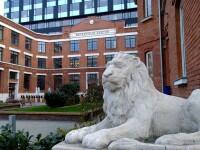 Following this reconversion, the hotels' 70 rooms were turned into 5,500 sqm of class B+ office space adding to the project's already existing 11,000 sqm of class A office space. The decision to give up on the hotel was taken because office space generates higher revenues, said Lorenz Tragatschnig. The hotel generated some EUR 5/sqm/month whereas the office space has a EUR 14/sqm monthly headline rent.
Some 35 percent of the 5,500 sqm (Metropolis Bravo) have already been leased and "most of the remaining space" should be leased by the end of the year, said Soravia representatives. The occupancy rate of the class A office space is 95-100 percent, according to company data.
"With Soravia Bravo we are offering something complementary to what we already have. The new office space is a mix between class B+ (technical standards) and class A (location). Virtually, we will now be able to supply a new category of clients – something we couldn't do in the past – those clients who wanted to be downtown but couldn't pay a prime rent. With Metropolis Bravo we offer an attractive rent which is 25 percent below the area's average, in a historical building (…), said Tragatschnig.
Metropolis Center was opened in 2009 on the site of a former Bucharest printing house at 89-97, Grigore Alexandrescu Street. In addition to the 16,500 sqm of office space, the complex also features 2,500 sqm of retail space.
Soravia could invest up to EUR 80 million over the next year in developing a new office project in Bucharest of a similar size with Metropolis Center, said Hanno Soravia, one of the developer's two founders, in a press conference today. The company is presently negotiating to buy the land for the project and said it will offer more details over the next weeks.
Starting the project depends on securing the financing, stressed Soravia. Banks are more open to financing office projects, but even so they require a project of this size to be close to 100 percent pre-leased, he explained. The developer is presently negotiating the terms and is willing to start construction with a 40-50 percent pre-lease and by financing 30-40 percent of the investment from its own funds, he added.
Soravia Romania owns a 7,700 sqm plot of land in the Mihai Bravu neighborhood of Bucharest, which it wants to sell because the area doesn't show a lot of potential for an office projects at present, said company representatives. In addition to this, the company owns a 26 ha plot of land close to the Cosmopolis residential project in Stafanesti, near Bucharest. Soravia Romania plans to build a big-box retail scheme on the plot but this could happen two, three years from now depending on securing the financing and the area developing more.
In the meantime, Soravia wants to set up a EUR 150 – 200 million investment fund to buy distressed assets in the CEE. (source: business-review.eu)