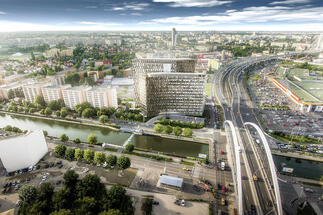 The total area of the Orhideea Towers project is 37,000 sq. m.
The contract was signed on a period of ten years, and Misys has the option to expand up to 13,000 sq. m.
Misys, an international company specialized in the development of financial software, with more than 2,000 clients in 130 countries, will occupy since March 2018 an area of 8,000 sq. m Orhideea Towers.
The company is in the tenant portfolio of CA Immo since 2008, having the headquarters in River Place complex in Bucharest, where it has expanded its area from 2,200 to 6,500 sq. m of offices. Misys is present in Romania since 2006.
"The development of Orhideea Towers allows us to meet the expansion requests from our tenants, having a long history with many of them. Meanwhile we will consolidate our position on the Romanian market and we will add a new A class office building in our portfolio, entirely occupied", has declared Frank Nickel, Chief Executive Officer of CA Immo.
The rental transaction was brokered by the CBRE.
Orhideea Towers is the first real estate project developed from scratch by CA Immo in Romania, involving an investment of EUR 75 million. The construction started in October 2015 and will be completed in 2017, having appointed as general contractor the Austrian company PORR Construct.
The project, with a rentable area of 37,000 sq. m, includes two office towers connected by a glass bridge, with 13 (GF+12) and 17 (GF+16) floors, with large areas up to 2,700 sq. m per floor and two underground levels. The building will feature 406 parking places as well as storage for bicycles, including showers and lockers for cyclists.
CA Immo was founded in 1987, being currently active on the markets in Austria, Germany, Poland, Hungary, the Czech Republic, Slovakia and Romania.
In Romania, CA Immo is present since 2001 and owns a portfolio of five office buildings: Opera Center 1 and 2, River Place, Europe House and Bucharest Business Park, totalizing a rentable area of nearly 106,300 sq. m with 93 pct. occupancy rate and a value of EUR 258 million. (source: profit.ro)