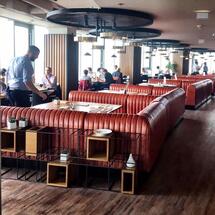 The restaurant has opened for public yesterday, 8th of May 2017. It is situated at the building's top floor, at a height of 136 metres, having the record of height for a restaurant in Romania.
NOR – Sky Casual Restaurant has a capacity of 250 persons and it is situated at the 36th floor of the office building.
The lease agreement was signed by the landlord with the company Stadio Hospitality Concepts, part of the group which controls other two restaurants in Bucharest, Stadio and Social 1.
There are no official data currently regarding the rented area included in the lease agreement. According to calculations made by Ziarul Financiar, considering the available area at the top floor of Sky Tower is 1,200 metres, if the restaurant occupies the entire area, than the annual rent would exceed EUR 200,000, considering a cost of EUR 15 / sqm/ month.
Opening a restaurant in the top floor of Sky Tower was announced since the end of 2012, before the project was completed, but the lease agreement was signed only recently.
Sky Tower is therefore joining the select club of office buildings with restaurants at height, such as City Gate with 18 Lounge by Embassy in Piaţa Presei and Sole in Crystal Tower near Victoriei Square. (source: zf.ro)