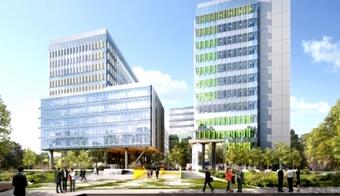 The classic action plan of Skanska is to develop projects and sell them right after completion, and the company is testing this strategy on the Romanian market as well, with its first project here.
There are not many active investors though in the local real estate market who could pay EUR 50-60 million for the project of Skanska, so one of the groups which started  initial discussions is the fund Globalworth, managed by the businessman Ioannis Papalekas, according to the information of ZF from the real estate market.
Skanska bought in the end of 2012 a land of 15,000 sq. m from the businessman Gabriel Popoviciu for the development of an office project including three buildings with a rentable area of approx. 52,000 sq. m.
Shortly after, in the end of 2013, Skanska started the works for the first building with a rentable area of 19,500 sq. m where it has already attracted as tenants the companies Orange and Schneider Electric, occupying 90 percent of the spaces in the building which will be completed this autumn.
Moreover, the Swedish have already erected part of the structure of the second building to be delivered next year, a building which attracted its first tenant, the pharmaceutical group  Sanofi.
The investment announced for the two building reaches approx. EUR 80 million, and the company brought its own financial resources for the development of the buildings, so a potential buyer should obtain a substantial bank loan or have dozens of million Euros liquidities in order to make the transaction. (zf.ro)