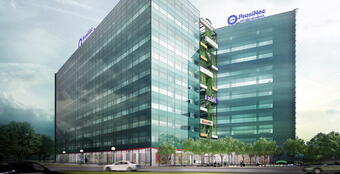 The construction of the building started in August 2012, with Bog'Art group as general contractor. The building is approx. 70 pct. let, the most important tenant being the TeamNet group, occupying four of the 11 floors.
The project is financed by PPF Bank from the Czech Republic, which gave the company EUR 39 million loan.
The developers have completed in the first quarter in Bucharest office buildings totalizing 23,400 sq. m, with 102,000 sq. m to be delivered by the end of the year. A quarter of the new office spaces coming this year on the market represent projects reconversions.
Overall in 2014 125,000 sq. m office spaces are expected to be delivered, representing 5 pct. growth compared to 2013ș 55 pct of this area is preleased.
Therefore, the total stock of office spaces in Bucharest has reached 2.07 million sq. m at the end of the first quarter, by the end of the year buildings such as AFI Business Park II & III, City Offices, Green Court and Ethos House also being completed.
In the first quarter the projects Metropolis II (the Starlight hotel reconversion) and Hermes Business Campus phase I were completed, situated in central Bucharest and Pipera respectively. (source: wall-street.ro)