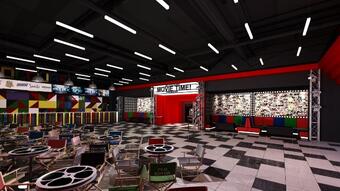 The new cinema has two movie projection rooms, one of them being intended for 3D movie projections – the first cinema room of this kind in the city.
The Colours Cinema's local network currently comprises three cinemas and the company plans further expansion in 2015. It plans to open six new multiplex cinemas in medium cities in Romania, with over 50,000 inhabitants.
Promenada Mall Focsani was inaugurated in 2008 and has a leasable surface of 45,000 sqm and over 1,200 parking places. It is 94% leased, some of its tenants being Carrefour, Bricostore, C&A, New Yorker, Deichmann, Orsay, Intersport, Altex, Marionnaud, Steilmann, Domo, Kendra and B&B.
The shopping center is managed by Resolute Lar Romania, an independent specialist manager of financial institutions' real estate and real estate debt exposures. (source: Romania-insider.com)