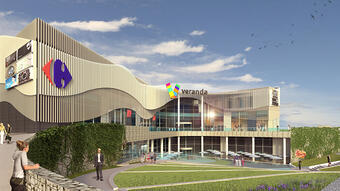 The mall should have covered 24,500 sqm, according to initial plans, but the developers decided to expand the project after receiving several demands from retailers, reports local Profit.ro. The shopping mall will now have 28,500 sqm.
The shopping center has an occupancy rate of 70%, and its tenants include French retailer Carrefour or Swedish fashion group H&M.
Veranda will be a neighborhood mall, Pogonaru said, and the restaurants and cafes cover a large area. It will also have a 1,500 sqm exhibition pavilion.
The project requires an investment of over EUR 60 million and will be due in the fall of 2016. It should generate rental revenues of some EUR 7.5 million per year.
Pogonaru also plans to start developing residential and logistic projects. (source: Romania-insider.com)