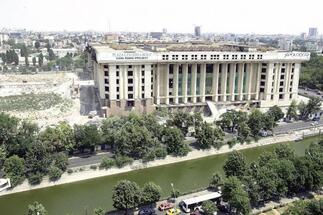 "In March 2016, the board of Plaza Centers announced there were problems found in some agreements previously made by Plaza Centers related to Casa Radio project in Romania. In order to approach the matter, the company's board has appointed the Chairman of the Audit Committee to investigate internally those aspects. The board also appointed an independent law office to study the problems found ", says the last financial report of Elbit Imaging, owner of 44.9 pct. of Plaza Centers.
Plaza Centers approached the Romanian authorities and is fully cooperating regarding problems found and also presented its conclusions to the Romanian authorities, the cited document also says.
Contacted over the phone by Capital magazine, Hanan Schraiter, Plaza Centers development director said he did not comment on the announcement made by the company's shareholders.
In December 2006, Plaza Centers entered a public-private partnership with the Romanian authorities, which have leased for a period of 49 years the Casa Radio project on Dambovita quay. The company plans were to convert the old project initiated by Ceausescu in a complex of 467,000 square meters, including a 90,000 sq m rentable area shopping centre, offices, a hotel and a conference centre.
The project's development costs were estimated at several hundred million Euros. After completion of the concession period, the project would enter into state ownership if period were extended. Plaza Centers says it has spent about 85 million Euros on demolition and design, as well as works for the foundation, until 2010, when the construction was stopped.
Plaza Centers found out now that "regulation risks could occur related to the right of the Romanian Government to expropriate Casa Radio project or other risks referring to sanctions that may be imposed to Plaza Centers regarding the property. Moreover, those rights are subject to termination in certain circumstances, by the Romanian Government, such as the event of delaying the project's development, and any termination prior the expiration of such rights could have a significant negative impact  on our business ", the financial report says.
Currently, Plaza Centers owns indirectly 75 pct of the company managing Casa Radio project, 15 pct belongs to the Romanian authorities and the rest of 10 pct. to some third parties.
An evaluation report conducted by Cushman & Wakefield placed Casa Radio at a value of 81.45 million Euros in the end of last year. The project upon completion was calculated at a value of 578.7 million Euros. (Source: capital.ro)