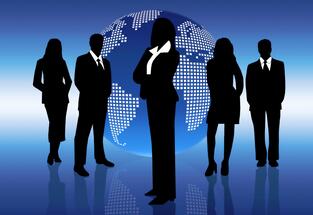 The Diplomat – Bucharest organized the ROMANIAN OUTSOURCING SUMMIT AND AWARDS 2015, an elite event that brings to attention the evolution of the local services sector and specific solutions to improve its development.
Francesca Postolache, Partner, Audit Services, PwC Romania: The competitive advantages of Romania as an BPO/SSC destination are language skills, soft and technical skills and lower costs with taxes
Romanian SSC BPO market is mature, offering a high range of capabilities and a large pool of skilled employees. Romania SSC/BPO market started to develop in the early 2000, covering the traditional functions for IT, F&A and call centers. Bucharest and Timisoara, benefitting from large university centres and strategic locations, were the first preferred options for SSC/ BPO. After 2006, other locations started to be targeted as well, to leverage the first mover advantage and lower labour costs. The SSC-BPO market employs between 20-30,000 staff and is expected to grow with 20-30 per cent over the next three years, shifting from transactional processes to value-added activities (e.g. R&D, talent management, engineering)
According to PWC's manager, Romania is the second largest talent pool in CEE, with over 120,000 graduates per year, main university centres of the country being the SSC/ BPO hubs, providing a qualified labour pool. "Romania has over 100 universities with more than 450,000 students mainly in the IT and Engineering (approx.140.000 students) and Economic fields (approx. 90,000 students). All university graduates are required to master at least one foreign language. For business degrees two languages are needed. Romanian workforce is highly receptive to typical western corporate values and possesses a high degree of cultural understanding. Current salary levels and future salary trends are highly competitive compared to neighbouring countries," Francesca Postolache told The Diplomat-Bucharest's event on Romanian Outsourcing Summit 2015.
The language skills available on the Romanian market have been one of the first attraction points for investments in SSC-BPO. Around 90 per cent of educated Romanians speak at least one foreign language 25 per cent of Romanians speak at least 2 foreign languages and 4 per cent of Romanians speak more than 3 foreign languages. "Romanians are internationally known for their high aptitude in speaking European languages: primarily English, followed by French, Italian, Spanish and German English is now spoken by 8 million Romanians; French by 4.5 million; German, Italian and Spanish, 1.5-2.5 million. In the eastern part of Romania there is a high density of Russian speakers, but there is also significant availability of Russian in Bucharest, through the Moldavian students coming for studies here. However, there is limited availability of more exotic languages, like Czech, Slovak and Nordic languages, which can be found only in small areas in the western part of the country, and usually not at business proficiency level," Francesca Postolache said.
Regarding taxes, besides the VAT return, which is sometimes a difficult objective to achieve due to the higher than 45-day interval of reimbursement, another fiscal law specifies that the salaries generated from activities of software development and sales are except from taxes, up to the level of 10.000 dollars. "Another significant cost within the P&L indicator are the costs with the rents, which, for the companies in the BOP and SSC fields represent a large share due to the large spaces these companies are renting. Also, the Government introduced a new State Aid scheme starting 1 July 2014, which could bring a significant financial incentive for setting up the SSC in Romania. The new State Aid scheme provides for co-financing of salary costs incurred by the employer for the new jobs created if certain conditions are met. The application should be supported by a business plan which will also demonstrate the incentive effect of the state aid, an investment plan, a hiring plan and a number of admin documents (the qualitative and quantitative indicators required for qualification)," Francesca Postolache concluded.
Daniel Hernandez, Societe Generale European Business Services, Head of HR Shared Service Center: Enhancing a continuous specialization
Societe Generale European Business Services (SG EBS) is a subsidiary of the Société Générale Group in Romania and operates as a shared service center, providing services in finance, accounting and human resources for Societe Generale entities located throughout Europe. Created in 2011, SG EBS is a company that grew rapidly aiming to gradually increase its scope to other activities, both in the finance and in the HR fields.
"Societe Generale European Business Services comprises 150 agents, HR and BPO expertise mix and 70 per cent French speakers. The activities refer mainly to contact center and HR operations, HR IS and reporting, transition and quality. In finance, the company operates 3 major lines of business: retail banking & financial service, management of assets & service, corporate & investment banking. In HR, Societe Generale Bucharest operates three major processes: data management, training and recruitment. "For us, as a process organization starting this year, what is most important is to position the quality team and the value creation at the core of our organization. It is most significant also to integrate the operations with the management, the transition and continuous improvement and HR IS Reporting," said Daniel Hernandez, Societe Generale European Business Services, Head of HR Shared Service Center told The Diplomat-Bucharest's event on Romanian Outsourcing Summit 2015.
The quality approach of the company focuses on continuously improving the processes in order to meet the customer needs and maintain strong risk management, besides streamlining their operation, according to the manager. "Mainly, the process consists in addressing risks in proactive manner and increase transparency, following the pattern from knowledge management to incident framework. Also, another approach of the company targets innovation, by empowering the SG EBS employees towards this approach," Daniel Hernandez added.
Marius Scuta, National Director, Head of Office Department and Tenant Representation, JLL: Expanding the outsourcing horizon
The real estate market has changed significantly in the last four years, since the last booming. The trends have adjusted and the investments in outsourcing centers had also a say in the change trends. "A new market trend is the decreasing rents in the large cities, from an average to 12-14 Euro/sqm/month in the past 4 years, to the current level of 9-12 Euro/sqm/month. Also, another trend comes from landlords that, so far, showed a low flexibility in the booming years while now, the market states a space phasing possibility and easier expansion. Also, one the business services associated with the outsourcing field are developing, the Bucharest is now competing with other target cities in the country, such as Cluj-Napoca, Iasi, Brasov, Timisoara, Targu-Mures, Sibiu or Sfantu-Gheorghe," said Marius Scuta, National Director, Head of Office Department and Tenant Representation, at The Diplomat-Bucharest's event on Romanian Outsourcing Summit 2015.
The real estate consultancy company Jones Lang LaSalle (JLL) works with many global companies that are deciding to open operational offices in Romania or the ones that are already present locally and decide on bringing also the support centers, for instance, to be reminded Deutsche Bank and Societe Generale, for which JLL assisted in such transactions. "As understood, the real estate operations stand for the infrastructure-support as part of a company's business case when deciding on tackling a new market or city. Usually, the aspects related to real estate used to represent the last criteria in the mathematics of a business case or process and this may have functioned so far but is starts to bring more and more pressure with the process since the outsourcing business is one of the fastest developing sectors in Romania. In the following three years, a pool of more than 3,000 to 5,000 people are to be hired within this field and the pressure comes from the need of space to accommodate them," the JLL's manager explained.
The current statistics offered by JLL report 200.000 new sqm of offices to be open and this, corroborated with "the 14-15 per cent vacancy rate do not stand for enough reasons to sharply conclude that they are ready to cope with the growth of the outsourcing sector," said Marius Scuta. According to the JLL's manager, not every office space is ready to open for an outsourcing operation. There are many variables to be taken into account, coming from two main directions: the market, defined by demand and supply and the tenant (the corporate real estate department), asking for specific features. Also, the global economy is changing and it brings in its turn, changes in the mindset of corporations. "For instance, in the past 3-4 years, a company's standards specified a 10-12 sqm for 1 work station. Now, due to the decreasing costs-general purpose, the average space density shrank to 6-10 sqm. So there are cases at now where buildings previously projected to accommodate a certain number of people have to deal with the increasing employee pool of the tenant (leading to decreasing personal space, changed work conditions such as lower natural light, air conditioning, etc) and this mirrored also in the quality of work. The current trend comes for international companies and investors which are demanding or building office spaces adjusted to the new market conditions and growth expectations and this also include the more and more attention paid to green office spaces," Marius Scuta detailed.
Also, once the business services associated with the outsourcing field are developing, the Bucharest is now competing with other target cities in the country, such as Cluj-Napoca, Iasi, Brasov, Timisoara, Targu-Mures, Sibiu or Sfantu-Gheorghe. "Bucharest still remains the first choice for companies operating these services but, in spite of some downturns (work force, flexibility), in the last months, a more opening in tackling other business centers apart of Bucharest is shown. Still, there are up and downs brought by the Tier 2 and 3 cities, such as the lower force flexibility of young professionals to travel for work outside the cities (where the support-centers or other outsourcing services are operated) or the inexistence of proper office buildings to accommodate such businesses," Marius Scuta added.
At a market level, LL recently conducted a global survey (545 respondents, most companies involved in outsourcing) on the impact of Corporate Real Estate (CRE) teams on their businesses and found out that, the CRE outsourcing is increasingly seen as a strategic imperative, bringing enhanced, improved and changed productivity, quality, flexibility, sustainability in strategic terms and decreasing direct real estate costs and run costs, among others.
Silviu Cretean, TotalSoft Services Division Director, TotalSoft and Alexandra Predeanu, Country Manager, ICAP Romania: Outsourcing means more than a commercial relationship
The software development and outsourcing paint the premises of Total Soft's businesses that started more than 20 years ago. Part of their operations, besides the crowd sourcing operations especially for payroll services and capital management, the company lately migrated towards the high-end outsourcing services, following their exposure from the very beginning to international clients that wanted more than manpower outsourcing services and especially wished for custom-made solutions. "The company focuses on three major principles, to support the client's growth, stay innovative and make an impression," as Silviu Cretean, the TotalSoft Services' director stated within The Diplomat-Bucharest's event on Romanian Outsourcing Summit 2015.
"Following its dynamical expansion strategy, ICAP Group, the largest business services group in Greece opened in 2008 subsidiaries in Romania, Bulgaria and Serbia, therefore looking for an IT provider able to support the new offices' activity from the technology and applications point of view. In 2009, ICAP started the collaboration with TotalSoft, as the latter has been selected as vendor from many candidates due to the company's excellent position and proven track record for such applications' development," said Alexandra Predeanu, Country Manager, ICAP Romania. Also, TotalSoft has a presence in countries where ICAP operates, thus offering local support. This ongoing collaboration consists from three major services: software development, maintenance and daily operational support. On the development side, TotalSoft undertook new projects or major expansions of existing projects, and successfully completed within time, cost and quality restrictions. The solutions delivered by TotalSoft optimize the daily activity of ICAP subsidiaries, leading to an increase in productivity up to 50 per cent by means of automatic updates of the database and rating calculation. Also, with the technological support of TotalSoft, the group developed dedicated services for the financial groups with large-volume needs of data feeds, according to data provided by the managers of TotalSoft Services and ICAP Romania.
Alexandru Tulai, President Cluj IT Cluster: The two-faced coin of capital buildup in outsourcing
Cluj-Napoca posts the largest IT services outsourcing market in Romania, for almost 25 years. "It delivers an excellent delivery work force in IT services in the context of an almost inexistent domestic industry. In the lack of a domestic need, the market became mainly a support services-platform, without generating added value, feasible and self-managed," said Alexandru Tulai, President Cluj IT Cluster, within The Diplomat-Bucharest's event on Romanian Outsourcing Summit 2015. That is why, according to Alexandru Tulai, "it is a natural move to use the work force and talents for foreign projects. So, several major inputs can be identified in the benefit of Cluj, so that is became a true IT Cluster in Romania: an important mass of IT specialists with very good technical skills; severe decrease of the local business needs in late '90s; an important number of Romanian IT specialists/students working abroad and the explosion of communications and Internet connectivity. Also, a fact to be mentioned is that professionals that have worked abroad and got successful turned back and invested locally."
However, the IT outsourcing services are very low represented at a corporate level in Cluj, as the IT services in the city are delivered by local work force capital. "Cluj benefits from many small companies up to 70 people but with a significant business life cycle. Hence, the main benefits of IT outsourcing cluster are: the capital buildup, which, as the president of Cluj IT Cluster states, is a two-faces coin: some company gained capital and reinvested while others, used in other directions or deposited. The second major benefit of a cluster is that enhances the competences improvement, and the last but not the least is represented by the exposure to different cultures and organizational models," Alexandru Tulai explained.
Aurelian Deaconu, Executive Director, AROBS Transilvania Software: Overspecialization, the local benefit in moving ahead on the added value chain
"The business life goal is to find a balance between products and services," Aurelian Deaconu, Executive Director, AROBS Transilvania Software told at Romanian Outsourcing Summit 2015. "The added value for an honest business is not to bill the customer for the worked hours but to deliver concrete solutions to clients," The manager explained. AROBS is a company specialized in providing IT solutions, established in Cluj-Napoca in 1998. Currently the company has over 350 employees, four local offices (Cluj, Bucharest, Iasi, Oradea, Suceava, Targu-Mures and Chisinau. Specialized in the development of software products and services, with a portfolio of customers in 14 countries on three continents (Europe, America and Asia) , AROBS provides efficient solutions for industries such as tourism, transport, sales force automation, location fleet, GPS navigation, financial services, healthcare , automotive, retail. AROBS currently has a turnover of over 8 million and over 350 employees.
Within the multitude of projects, the company is defined by two special competencies, in the area of travel and automotive software developments. "For instance, AROBS is also responsible for the software development for the German brand Volkswagen Passat's switch from analogical board to digital board. Also, in the area of special projects, AROBS provided both hard and software solutions for the travel ticketing automate in Iasi, and this may be the sole project as such in Romania," Aurelian Deaconu said. Also, in automotive and travel fields, Deaconu states that AROBS developed the fleet management Track GPS application also in Indonesia and over 1.000 tracked trucks on the Asian market. He looks at expansion in this area, also.
Regarding the resources, including the work force resources, the AROBS' s manager reported that that company posts a 20 per cent growth each year for the last three years. As stated by the manager, only following the current confirmed contracts, the company may register a 10 per cent increase in Q1 this year. That is why the resources chapter is a sensible topics and not only for AROBS but for many companies in the area of IT services. As particular experience regarding the cities, Deaconu mentioned that awesome surprises are the offices opened by the company in Targu-Mures, Suceava and Chisinau. On the other side, the manager says that Bucharest is a too resource-expensive market for AROBS. Also, Budapest turned not to be the best choice for the company's expansion outside the country limits. "However, the IT services and outsourcing fields in Romania are more than offering regarding the creation of jobs in the area. Romania most lacks the creation of resources and alternative learning and training programs. Better capitalizing on the technological and business knowledge that we have accumulated all these years should stay in everyone's focus," Deaconu added.
Dan Zaharia, Senior Leasing Consultant, EXTIND Management: Outsourcing in the successful regional cities of Romania
Once with the opening of Iasi-based IT Informal School and the new office of RoGBC opened in Republic of Moldova, EXTIND Management aligns the green building offer in the region to the needs of international corporate clients, by adopting the Polish model that also include the state aid component, lacking in Romania in the last years. "A fact is that, in spite of the general opinion that Iasi and Northern part of Romania is poorly developed at European level, the region holds significant resources for business development and investments. The competition is not formed within the country, Cluj or Timisoara is not competition for Iasi, as each having different competences. Instead, the stakeholders' focus should be targeting markets such as Morocco, Guatemala, Vietnam. Bucharest is a saturated market in terms of business development and many companies present in the capital are opening subsidiaries in other cities in Romania, in order to resist the salary spiral," said Dan Zaharia, Senior Leasing Consultant, EXTIND Management at Romanian Outsourcing Summit 2015.
"There is certain subjectivity in terms of choosing a city for opening a business or expanding it, besides the concrete metric regarding people salaries, rents, and technical skills," as Dan Zaharia explained. Starting 2007, Dan Zaharia, as "business ambassador" of Iasi, manages rental transactions for businesses in Iasi, also expanding the lobby endeavors to Cluj and Chisinau. "For instance, Iasi alone delivers around 1.000 specialists pipeline each coming from four relevant specialized faculties in Iasi, including the Faculty of Informatics. Both Cluj-Napoca and Iasi delivers proper conditions to IT and outsourcing investments, due to their strong academic environment, with over 70.000 students, the advanced telecom infrastructure and a continuous flux of IT specialists," Dan Zaharia concluded.
Catalin Iorgulescu, Board Member of ABSL and Managing Director WNS Romania: Investments in education, a guarantee for the long-term growth
Statistically proven, Romania has more than 80 per cent chances to experience lower GDP growth in the next 40 years compared to other countries. Also, because 80 per cent of the world is ahead of us at OECD test result according to statistics of 2012. "The latest Baccalaureate results registered in Romania, of 37 per cent graduation rate in 2014 can be easily compared to the graduation rate in US, that post 74 per cent proficiency rate in math and 62 per cent rate in English reading (as they also have a very different testing system). The figures still speak by themselves and as loud as the fact that percentage of jobs requiring at least a college level is increasing, from 28 per cent in 1973, to 42 per cent achieved in 2007 and an expectancy of 45 per cent in 2018," said Catalin Iorgulescu, Board Member of ABSL and Managing Director WNS Romania, at The Diplomat-Bucharest's event on Romanian Outsourcing Summit 2015.
It takes one generation to significantly upgrade an educational system and see results. "There were few significant initiatives in the last 25 years in Romania and it is estimated that only 5 to 10 years more are left to fix this major issue in the competition race with the other markets," Catalin Iorgulescu concluded. (Sursa: actmedia.eu)