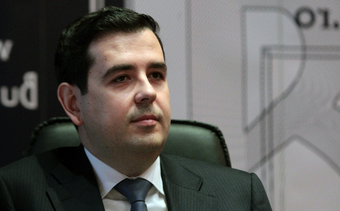 The land in northern Bucharest is on the list of the investments the company intends to make with the recently raised on London Stock. The list includes ten investment objectives, completed buildings, lands and projects in development or renovation, including UniCredit headquarters in the proximity of Pietei Presei Libere in Bucharest, for which the company should pay EUR 129.5 million in total. Moreover, the projects need investment of more than EUR 100 million. Some of the projects were already purchased, others being in advanced negotiations, according to a report of Globalworth, Mediafax writes.
On Dimitrie Pompei Blvd in Bucharest Papalekas ids to develop on the plot situated near the Upgroud complex, also owned by the businessman, an office and retail complex with a rentable area of 50,000 sq. m.
Another project on the investments list is Timisoara Airport Park in northern-eastern part of the city, near the airport. Currently, the park hosts the auto parts manufacturer Valeo, but the plans aim the development of three more phases totalizing 68,000 sq. m. All of the three phases are fully let and the transaction reaches EUR 17.3 million.
In Bucharest, the businessman intends to invest EUR 6.3 million in a project in the Old Centre. The property includes an existing building and a plot for development. Upon its completion, the project will include more than 6,500 sq. m of commercial rentable area. In the same area, across the street from Coltea hospital, there is another investment aimed by the businessman, Bratianu Office Building, an old historical building in renovation and consolidation, with works being scheduled for completion in the following months. The project will include 3,000 sq. m of retail and office spaces.
Papalekas will also develop a retail project on 8,000 sq. m in Northern Bucharest, close to DN1, including a Decathlon store and a Mega Image supermarket, with an investment exceeding EUR 5 million.
The businessman announced last week that he managed to raise EUR 144 million on London Stock, funds to be used for investments. The total amount of nearly EUR 144 million will be used for development of the company's projects (approx. EUR 23 million) for the acquisition and development of new projects (EUR 56 million) and for paying the loan (EUR 65 million).
Papalekas, who also bought in recent years Tower Center, Cathedral Plaza and City Mall, have another office building in construction in the area Floreasca - Barbu Vacarescu in Bucharest.
The businessman owns, through the company Globalworth, real estate assets evaluated at more than EUR 500 million. (source: wall-street.ro)