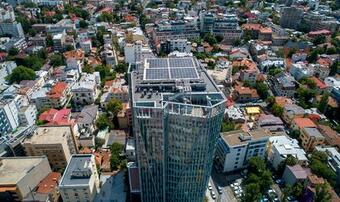 "We always look for ways to further improve the energy efficiency of our buildings," said Mirela Ciovică, Head of Leasing at PPF Real Estate Romania. "Converting the roofs into photovoltaic panel sites reduces our carbon footprint and also reduces energy costs for tenants."
In the Crystal Tower's case, the PV panels were installed on the building's heliport, which was unused. "We trust that Bucharest traffic, while congested, will not get to the point where our tenants will have to use helicopters to get to the office. In any case, our buildings are close to all reliable public transit connections," Ciovică added.
Crystal Tower is already one of the most energy efficient buildings in the city due to its double facade. Located near the Piata Victoriei Square in the heart of Bucharest's central business district, Crystal Tower is a Class A office building, with 15,000 sqm on 15 floors.
Metropolis, the other PPF Real Estate office building in central Bucharest, has already been running partially on solar panels since November 2022, having produced over 22.000 kWh during the first 10-month period.
Metropolis is a green, class A office building honoring its heritage by incorporating a historical monument facade, which previously belonged to a printing house. In Bucharest, Metropolis is a superb combination of modern and classical architectural styles. It comprises over 16,600 sqm of office space and a further 2,000 sqm of retail space.