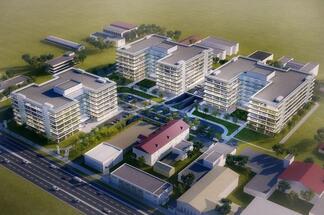 Portland Trust bought in August last year a plot of nearly 4 ha, part of the former industrial platform Pipera, from the Italian company Nusco Group, the developer started the construction of the first two office buildings with a rentable area of 37,000 sq. m within Oregon Park. The investor intends to develop a total of three buildings with a gross built area of 76,072 sq. m.
For the beginning of works, carried by the Austrian constructor Strabag, the developer brought its own capital of EUR 33.7 million. As works developed, the company decided on 15th of September to get a loan from BCR.
This summer, Portland Trust signed a lease with the American group Oracle for 20,000 sq. m in the new project.

The same tenant occupies 20,000 sq. m, namely the entire B building, in Floreasca Park, a project completed by Portland Trust last year and sold to the investment fund GLL Real Estate Partners for approx. EUR 100 million. The office complex Floreasca Park, situated across the road from the new project Oregon Park, needed an investment of EUR 70 million, with 39.3 million being also borrowed from BCR.
Portland Trust also sold in 2010 the project Floreasca 169A to NEPI, for EUR 101.2 million. The most important projects developed by Portland Trust in Romania also include Opera Center (delivered in two phases, in 2001 and 2002) and Bucharest Business Park (2006). (source: capital.ro)