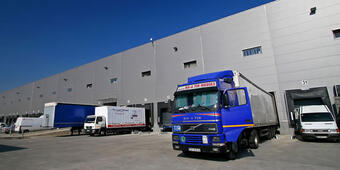 With this transaction, estimated at nearly EUR 60 million, Portland Trust sold all its revenue generating assets in Romania.
After reaching an agreement with the German investment fund GLL Real Estate Partners for the sale of the office complex Floreasca Park in Pipera area for approx. EUR 100 million, Portland Trust is now negotiating the sale of Bucharest West.
The company currently has a single office project in development, across the road from Floreasca Park.
Bucharest West was developed by Portland Trust in several phases starting 2006 and reached an area of more than 110,000 sq. m, The park's tenants include the companies DSV, Iron Mountain, BUNZL, IKEA, according to Portland Trust website.
Across the road from this project, the company P3 paid EUR 120 million this spring for Europolis Logistic Park, a project including eight warehouses of 215,000 sq. m and approx. 40 ha of land for expansion.
After announcing in the beginning of the year that it would invest EUR 100 million in the expansion on the local market, CTP already surpassed this goal. With the new acquisition, CTP becomes the largest industrial and logistics facilities owner in Romania. Recently, the Dutch company bought the logistic centre Prologis Park Bucharest A1 from American company Prologis, for nearly EUR 50 million.
Previously, the developer bought Mercury Logistics Park, situated across the road from Prologis project, from the American investment fund Heitman, paying nearly EUR 10 million. Moreover, CTP also bought the project Cefin Logistic Park in Arad, took in insolvency procedure from Volksbank for nearly EUR 15 million and most recently, they paid EUR 10 million for Deva Logistic Park in Băcia, a project bought from the Belgian entrepreneur Yves Weerts.
In July, CTP also completed its first own project developed in Romania, for the German producer Frankische, on a plot in Turda. (sursa: capital.ro)