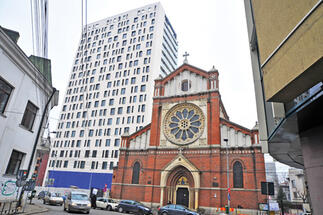 The office building Cathedral Plaza is a project started in 2006, for which the developer Millennium Building Development received a construction permit from the Sector 1 City Hall.
Even from the beginning the Roman Catholic Archdiocese contested the permit based on the fact that it affected the image and the structure of Saint Josef Cathedral, situated right near the office building. The construction works were completed in 2011, and in 2012 Ioannis Papalekas bought this building.
Ploiesti Court of Appeal decided irrevocably in January 2013 the demolition of Cathedral Plaza. On April 15th, Dambovita Court has temporarily suspended the enforcement of the decision obliging te general mayor of Bucharest, Sorin Oprescu, to issue the decision of demolition of the office building.
Afterwards, the Roman Catholic Archdiocese has filed a request of cancelation of this decision, which was approved last week. (source: encompassme.com)