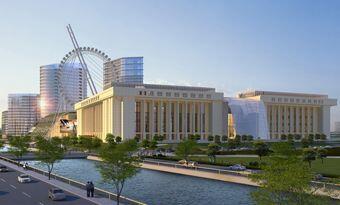 Plaza Centers owns 75 pct of the project to be developed on 10 ha plot situated on Dâmbovița river bank. The most recent data of the company shows that the project should include a commercial centre of 90,000 sq. m, two office complexes of 90,000 sq. m and 50,000 sq. m, as well as a building for the Romanian state on 10,000 sq. m, a conference centre of 2,000 sq. m and a hotel of 45,000 sq. m.
"The company obtained the Detail and Zone Plans for a plot and currently is exploring the financing opportunities or a development partnership", a company report form January shows.
Plaza Centers also owns plots for commercial centres development in Romania, part of them being sold last year and this year (Slatina, Iași, Brașov, Târgu Mureș and Hunedoara), the rest being available for sale (Miercurea Ciuc and Constanța). The exception is the plot in Timișoara, as Plaza Centers has obtained last year the construction permit for a commercial centre.
All projects in Romania were delayed several times.
Plaza Centers, controlled in proportion of 62.5 pct by the Israeli group Elbit Imaging, operates in eight countries in the region, Romania, Poland, Lithuania, Hungary, Zech Republic, Serbia, Bulgaria, Greece, as well as in India, where it has 30 assets in various development phases. (source: profit.ro)